cPanel Autoresponder
Creating an Auto-responder can be used for automatically responding to emails if you are unavailable. Or to let them know you received their email.
After you are logged in to your cPanel account, scroll down to the Email section.
Click on the "Autoresponder" Icon in the cPanel Dashboard
Click "Add Auto responder"
The next steps will show you how to create an automatic reply in cPanel
Modify / Add Autoresponder
This the page where you configure your Autoresponder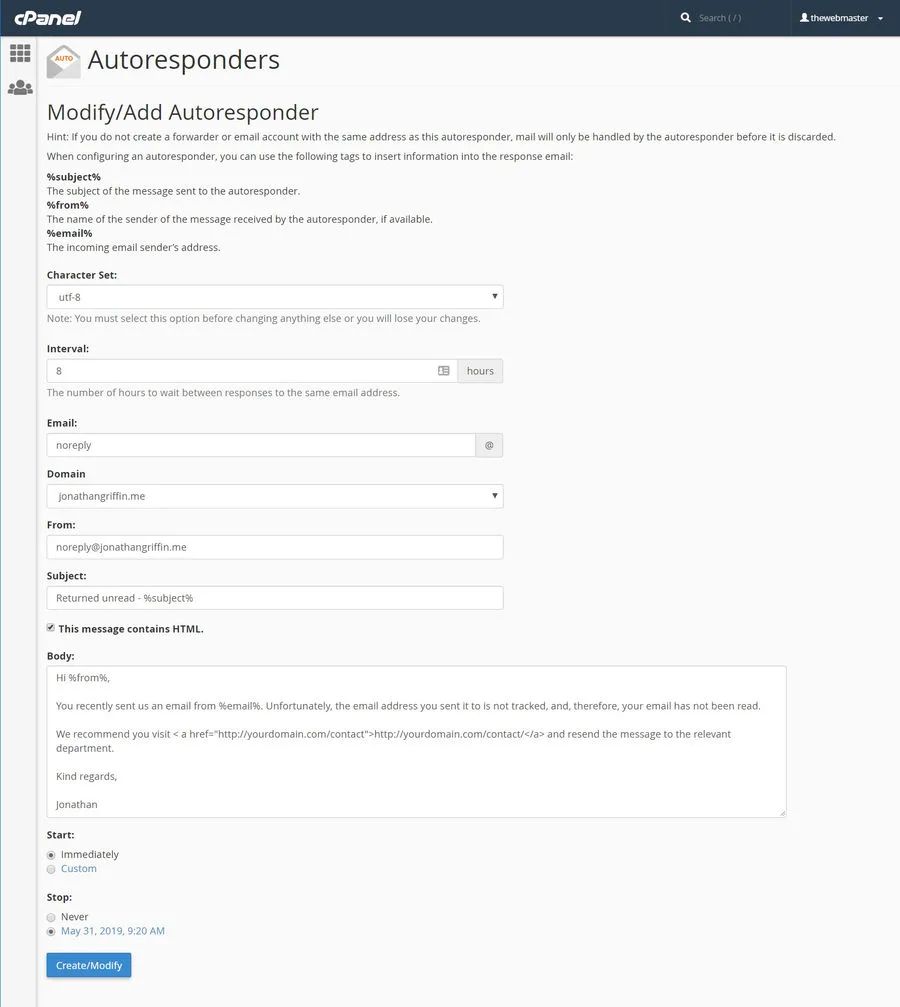 Character Set
The first step is to configure your "Character Set."
Leave the Character Set as "utf-8". Unless you are programming a special character set
Make sure you configure this setting first. If you modify it later you will lose any other changes you have made.
cPanel Autoresponder Interval
The cPanel Responder Interval governs how often you will automatically send a reply to the same person.
For example, if you receive from "blogs@blogs.com", it will immediately reply
However if "blogs@blogs.com" sends you another email
It will not send another email until the period set by the Autoresponder expires
This is useful to prevent you from spamming someones inbox with the same message over a short period
Email and Domain Field
This is the email account that will trigger the Autoresponder
It is configured in two parts:
Email
This is the first part of the email "user name" without the domain name
Domain
This is the domain name part of the email
(These two fields together will form the complete email address)
From
Enter the email address here that you wish for your reply to be from
This does not need to be an active email, for example, you could have "no-reply."
Subject
The subject that you wish to send out as your Auto Response.
You can use the same subject used by the sender in your reply if yo ulike
To do this, you can use a %subject% tag. Just copy and past it
HTML
If you would like to use HTML tags (for example adding clickable links, or images), check this box
Body
Add the content of your automatic reply.
You can use the following tags in your reply:
%from%
This will insert the name of the sender into the email reply if available. Otherwise the email address of the sender will be used
%email%
This will insert the incoming email sender's address into the reply.
You could acknowledge an email to say it is received (good for support emails) or say you are "Away for the Holiday".
You could also add further information such as when you expect to return
Start and Stop
Start
You can choose Immediately or Custom. If you select custom a small calendar will appear allowing you to choose the start time and date
Stop
You can choose Never or Custom. If you select custom a small calendar will appear allowing you to choose the stop time and date
Click Create
You all set, now when someone sends an email to the above email address a response will be sent back to them
Tweet Share Pin Tumble Email
We welcome your comments, questions, corrections and additional information relating to this article. Please be aware that off-topic comments will be deleted.
Or if you need specific help with your account, feel free to
contact us
anytime
Thank you