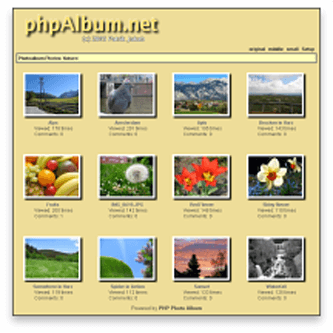 Features
Automatic generation of thumbnails and resized
Commenting of pictures with anti-spam security code
IPTC Support, import of keywords and picture description
E-Cards
Admin section
Screenshots for files to be downloaded, movie, audio, exe
Password protection for your private galleries
Short, long description of galleries and photos
Highly customizable layout
Transparent logo and icon processing
Access logging
phpAlbum YouTube Videos
The phpAlbum Hosting Solution
Our phpAlbum hosting plans are fine-tuned, reliable, incredibly fast and are ready for you
Pro Personal
5 Email Accounts
5 Parked Domains
5 Sub Domains
1 Website
Lock in this price now
$ 4.97
/mo
For Life!
No long term contract
Most Popular
Pro Business
25 Email Accounts
25 Parked Domains
25 Sub Domains
5 Websites
Lock in this price now
$ 8.97
/mo
For Life!
No long term contract
Pro Ultimate
Unlimited Email Accounts
Unlimited Parked Domains
Unlimited Sub Domains
Unlimited Websites
Lock in this price now
$ 15.97
/mo
For Life!
No long term contract
phpAlbum
Setting up your phpAlbum website with "One Click" Softaculous Installation though your cPanel. The fastest way to set up your phpAlbum website! You will automatically get an email notifying you when a new phpAlbum version is available. Log into your cPanel and update your installation with a single click, so you always have the latest and the most secure version
Making your phpAlbum website faster and safer with the hottest hosting technologies and proactive security practices. SSD drives - For faster website speed, we use Solid State Drives on all our phpAlbum hosting plans. Latest speed technologies: Enhanced performance with NGINX, HTTP/2, php7 and free CDN. Free SSL Certificate - Providing Free SSL (HTTPS) certificates with each phpAlbum account. User apps auto-updates: Over 3 million CMS and Softaculous updates every year. Firewall security rules: 900+ WAF rules to fix zero-day vulnerabilities
Frequently Asked Questions (FAQ's)
Can I have multiple domains pointing to my website?
Yes, We can "point" other domain names to your existing website with no additional charge to you. You will need to make sure these Domains, also use our Name Servers or DNS numbers. This is a great way to expand the marketing of your website.
How secure is RSH Web Services hosting?
An average of 30,000 sites are hacked each day globally. Our security measures help prevent this and protect your website and investment. RSH Web Services offers DDOS protection (brute force defense), free and paid SSL certificates, ConfigServer Security and Firewall and a number of other security features. All at NO additional charge to you.
Can I use my Domain for my Email address?
Yes, this is one of the advantages of owning a Domain. Your email address will look professional using your domain name as compared to using a free email account such as Yahoo or Gmail for your official business correspondences.
How does WordPress Hosting Work?
Once you purchase a WordPress hosting package, RSH Web stores your WordPress files on one of our Web Servers and points your Domain Name to that space. Your Domain Name allows people around the world to find and view your website. You are basically renting space on one of our web servers. RSH Web then allows your WordPress files to be seen and accessed from anywhere 24-7, 365 days a year.
Tweet Share Pin Tumble Email