Softaculous Hosting
Featuring "Auto Installer" for over 450 Scripts
WordPress, AbanteCart, PrestaShop, Joomla, phpBB, Magento
WHMCS, MyBB, PHP-Fusion, Mambo, SeoToaster, Concrete5 Open Real Estate

Already Integrated into all web hosting accounts
With stunning looks and the easiest and most elegant to use, control everything from within cPanel
Letting you focus on your website rather than spending time on installing scripts
Pro Personal
5 Email Accounts
Spam Protection
Domain Privacy
Unmetered Bandwidth
5 Parked Domains
5 Sub Domains
1 Website
Lock in this price now
$ 4.97
/mo
For Life!
No long term contract
Most Popular
Pro Business
25 Email Accounts
Spam Protection
Domain Privacy
Unmetered Bandwidth
25 Parked Domains
25 Sub Domains
5 Websites
Lock in this price now
$ 7.97
/mo
For Life!
No long term contract
Pro Ultimate
Unlimited Email Accounts
Spam Protection
Domain Privacy
Unmetered Bandwidth
Unlimited Parked Domains
Unlimited Sub Domains
10 Websites
Lock in this price now
$ 12.97
/mo
For Life!
No long term contract
Website Hosting and Softaculous?
The best combo you can have
Having more than 450 great scripts, 1115 PHP Classes and still adding more
Softaculous is one of the most widely used Auto Installer in the Web Hosting industry. Enabling you to quickly install any of the leading online scripts easily and securely. Installing application such as Wordpress and Joomla takes only seconds and can be performed easily without the need of setting up any databases, importing structure, or setting permissions for any files. Has helped millions of users install scripts and applications by a few clicks of your mouse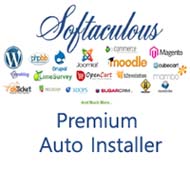 Try the Softaculous "Easy Demo", Check out the Specifications
Read Reviews and much more on each application available via the Softaculous Auto Installer
Just how easy it is to use the Auto Installation tool
Installation with Softaculous couldn't be easier
1.) Log into your
cPanel control panel
2.) Click the Softaculous icon
3.) Select the software application you want to install
4.) Set where you want the software to be installed
5.) Select your user-name and a password
6.) Click - "Install" - That's it
Listing a few of the more popular scripts
Frequently Asked Questions (FAQ's)
Can I access my domain address with or without the "WWW"?
Yes, you will be able to access the domain address with or without the "www" in front of the domain name. Example: http://www.rshweb.com or http://rshweb.com is acceptable, whichever you prefer
Do I have to host my website with you if I registered my domain through your website?
Not at all. You own the Domain Name. You can host your website anywhere you choose and still keep your domain registration with us
How does Website Hosting work?
After you sign up for a website package, RSH Web stores your site or web pages on one of our Web Servers and "points" your Domain Name to that space. Your Domain Name is the address that allows people to find and view your website. By purchasing a hosting package you are basically renting space on one of our Web Servers which allows your website to be seen and accessed from anywhere
Do you have any Wordpress Tutorials
Yes we do and they are located here. With more than 20 pages of articles. If you see something not listed here please let us know