Beginners Guide to cPanel
cPanel
cPanel is a Web based control panel where you can manage almost everything with your Website
RSH Web has made cPanel available to all of our customers. It is a simple and easy to use dashboard. It is maintained with regular updates, improvements and security measures
See our blog on What is cPanel
With cPanel you will be able to connect domain names to your hosting account. Set up email accounts for your users. Install WordPress or many other CMS (Content Management Systems). Back up your Website. Upload files and images. Check the bandwidth and other usage stats. Change different security settings. Install add on applications
And more than 80 different features (listed here) for you to use with your website
The cPanel Interface
Logging In to cPanel
Log into your cPanel with the supplied URL and enter your cPanel username and password
If you need more help there is documentation available on every page within cPanel itself. Usually listed along the top. For example

Once you have logged in you should see a screen similar to this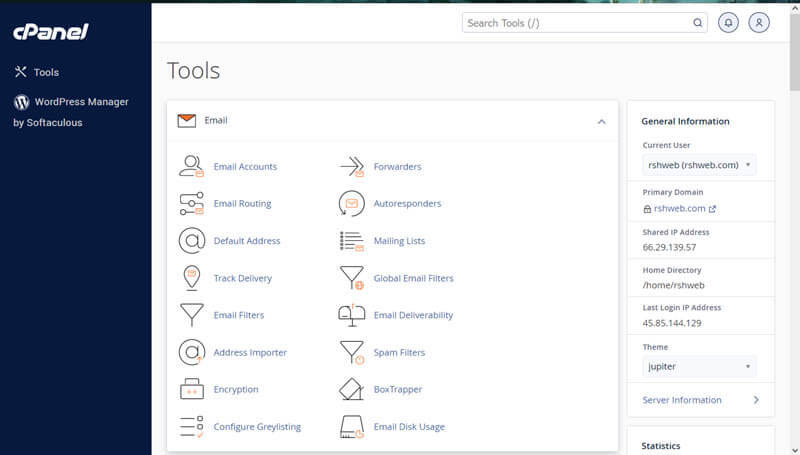 This is the newest version of cPanel. It is a theme called Paper Lantern
If you see a different theme or to change the theme of your cPanel, find the PREFERENCES section and click on Change Style
You will have a few choices. The selection comprises of the Basic, Dark, Light, and Retro styles
To have the same theme we are showing with this article choose Basic by clicking the Apply button in the top right corner next to the style
See our cPanel FAQ on Changing cPanels Style
Navigation Bar
The navigation bar is at the top right corner of the screen. There is a simple search field. A link to your user preferences. A notification bell and the logout link

The search field allows you to find the key options within cPanel. The search field can be a quicker way to navigate around cPanel
With the user preferences link you can change your password, language, edit your contact information, and you can also reset the page settings with one click
The notifications bell is a place where you can see updates about your hosting setup. Messages from RSH Web Services
The logout link is self explanatory. Remember for security reasons always log out every time you are finished working with cPanel
Second Search Bar
Apart from the search bar in the navigation bar there is another visible at the very top of the page right below the navigation bar
This one works similarly. But with this one instead of showing you results inside a drop down, it will filter out the center part of cPanel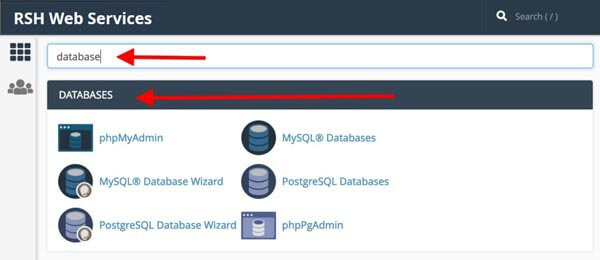 On the left side of the screen is a sidebar with a Home icon and User Management icon
Reorganizing cPanels Homepage
You can collapse sections by clicking on the minus sign in the top right corner of each homepage section to minimize it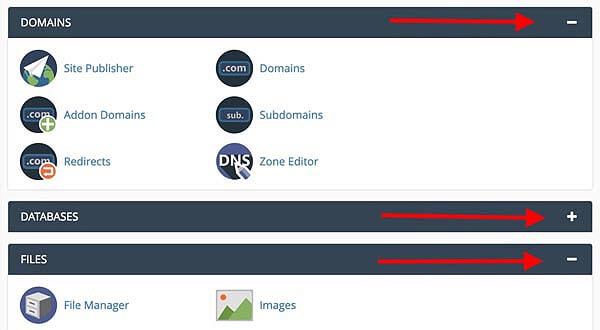 You can also drag and drop entire sections to reorganize and put the most commonly used ones near the top
---
Updating Your Preferences
When you first log in to cPanel make sure the "Preferences" section is updated with your contact information

Changing Your Password
Click on Password and Security. You will be taken to this screen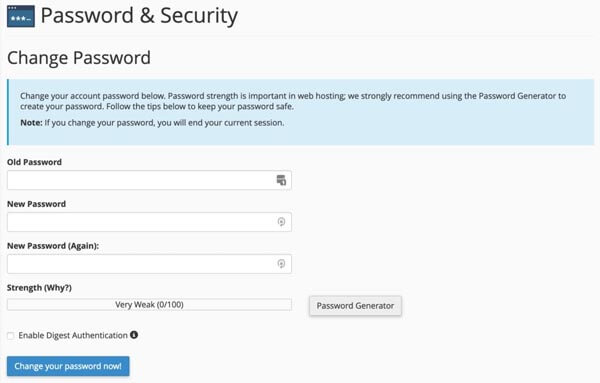 You will have to enter your old password before choosing a new one
You can either use the Password Generator or come up with one on your own. Using the Password Generator is a good choice, it will give you a strong and secure passwords
See our blog on Creating a Strong Password
Updating Your Contact Information
One important thing is to provide an email where you can receive updates when needed
To get to these settings click on Contact Information to reach the following screen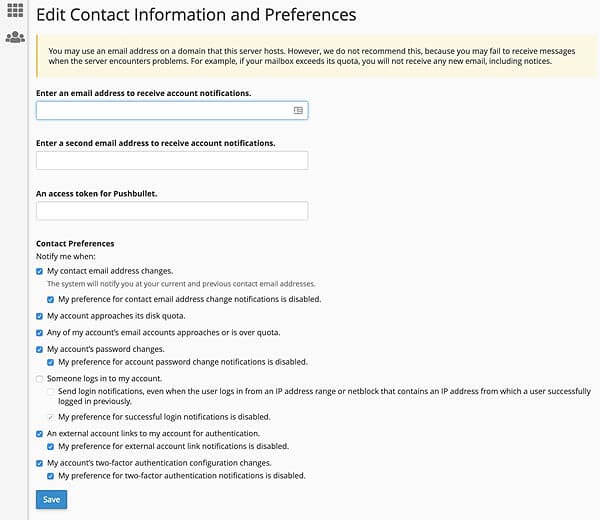 We recommend having all the boxes under Contact Preferences checked, as they could alert you to suspicious activities
---
Adding a New User
Click on the User Manager icon that is in the same PREFERENCES section

You will then see the following screen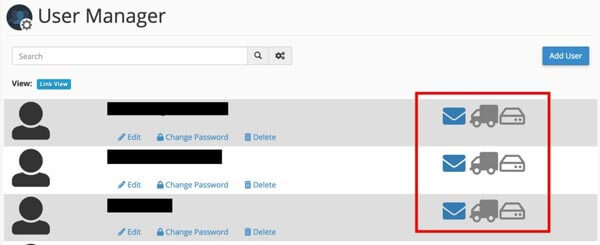 You will see all accounts that are currently in your cPanel. There are three icons next to each account (you can see them in the screen shot above)
The envelope icon indicates if the person has an email account set up. If the icon is colored then there is an email account set up. If it is grayed out there is not
The truck icon indicates if the person has an FTP account. Colored yes grayed out for no
The disk icon indicates if the user can use the web disk services that are part of cPanel
You can easily edit any user there, change their password or delete them with the options listed below the account name
To add a new user click on the Add User button in the top right corner

You will see the following screen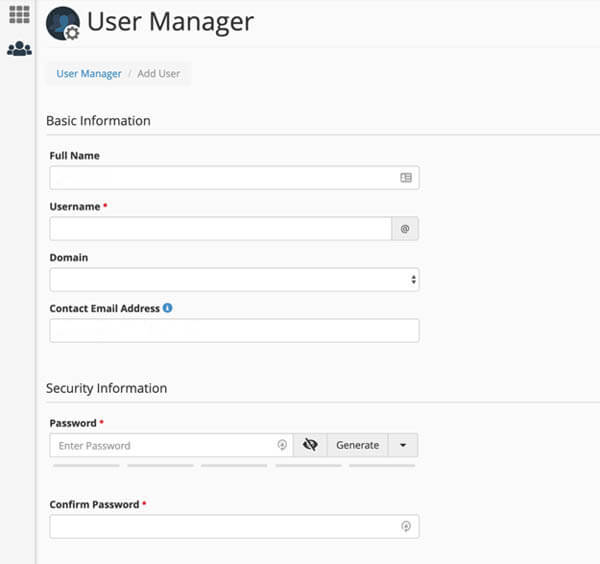 You can add the users full name, the username, the domain that the new user should be associated with and if needed an alternative email that the user can be reached at. And a password for the user
Just below the fields you will find a section called Services that correspond to the three icons that are listed above

Email allows you to enable or disable email accounts for the user and set a limit for how much space each email account can have
FTP allows you to enable or disable users from being able to access your hosting setup via FTP. You can choose what directory the new user will have access to and limit the space they can use
Web Disk permissions should be reserved for your Top Level Admin accounts only. Read Write level access gives the user full permissions to do pretty much whatever they wish within the specified directory (including deleting files) Read Only only permits reading, downloading and listing files
---
Managing Domain Names
The Domains section of cPanel is where you can add a domain name, manage your existing domains, set up subdomains, add simple web pages for your Domains
Also see our cPanel FAQ on Adding a New Domain Name

Adding a New Domain Name
To add a domain name to your cPanel click on Addon Domains
An addon domain is another name for a standard domain name that you can use to create a fully functional website. With this you can host multiple domain names from the same control panel
On the Addon Domains screen, you will be asked to enter your new domain name plus a couple of other settings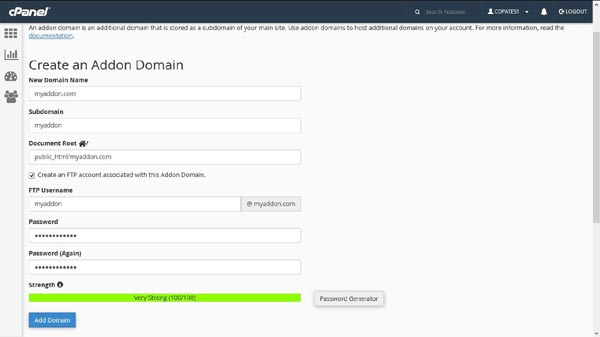 New Domain Name. The exact domain name that you have already registered
NOTE the www you often seen in association with domain names is NOT part of a domain. Never add this
Subdomain. This will be filled out automatically as soon as you enter your new domain name into the field above. cPanel will use this for internal routing
Document Root. The location on the server where your new domains files will be. This is filled out automatically. You can change this to what is needed
Click on Add Domain to finish
Editing or Removing a Domain Name
On the same Addon Domains screen, there is a section called Modify Addon Domain where you can take care of managing, setting redirections, or removing domains completely
Creating Subdomains
Subdomains will work as separate Domains with separate files and web pages, the Search engines even recognize these as different domain names. You can create a custom subdomain on the same screen where you took care of managing the existing ones
Subdomain. The name of the subdomain you want to set. Use only letters, dashes and numbers
Domain. The parent domain for the new subdomain
Document Root. The directory or folder on the Server where the new subdomains files will be kept. Example domain.rshweb.com
See our cPanel FAQ on Creating Subdomains
---
Email Accounts and Settings
One of the best options about a cPanel enabled Website is that you can create custom email accounts for your Domain Name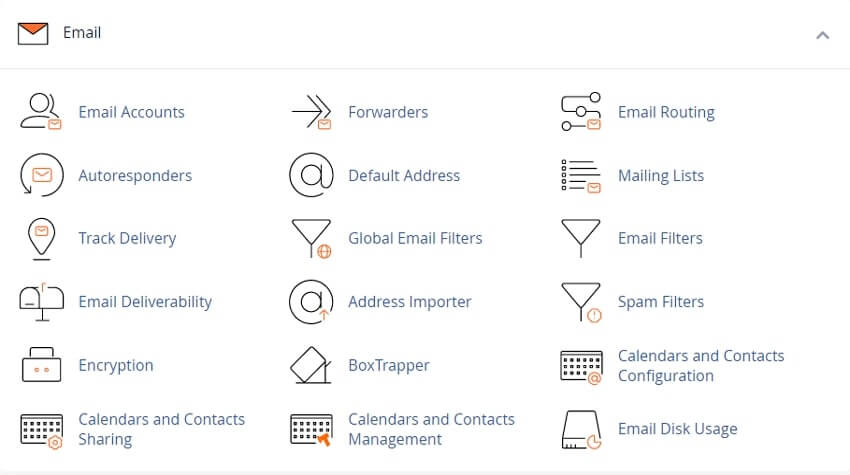 Here you can create new emails, email forwarders, autoresponders, control Spam and more
See our cPanel FAQ on Creating Email Accounts
Setting Up an Email Account
To add a new email account click on Email Accounts. You will see the following screen Add Email Account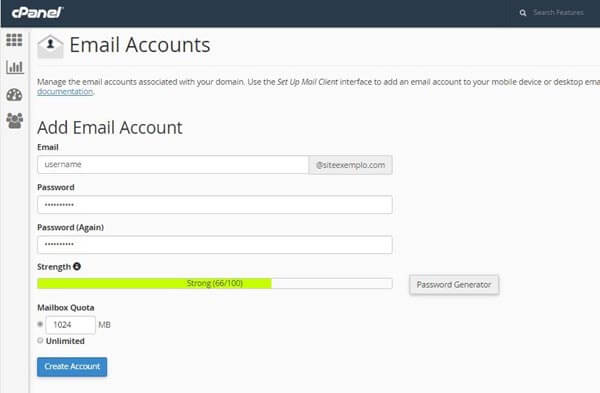 Email Enter the use name. Example admin or yourname
Domain Select the Domain from the drop down box
Password Create a good password
Mailbox Quota Set the size of the mail box storage
NOTE. Emails take up space on your Website. You may not want to give everyone unlimited access. However, .5GB (=500MB) is a reasonable amount
You will see that the email you just created has been added to the list of the existing email accounts in the Email Accounts tab

You can manage every element of that including the password, quota, and other details
Using Your Email
After you set up an email account You have two main options
Configure the Email in an email client like Gmail, Apple Mail, Outlook, etc
Use Webmail
Configure Your Email Locally
Click on the Access Webmail link that is visible next to your address in the Email Accounts tab

This will take you to a new panel. Scroll down to the section labeled Mail Client Automatic Configuration Scripts. You should see something like this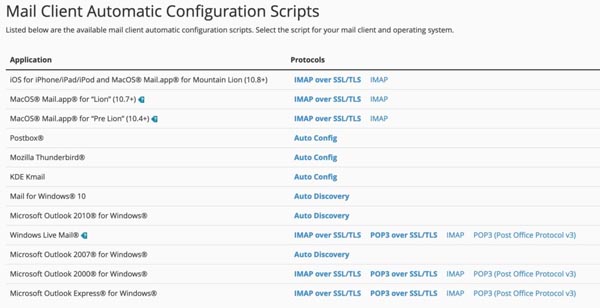 There is some links there with either instructions or ready made configuration scripts for some of the most popular Email Clients. If yours listed click on the link and finish the configuration according to the advice given
If you do not see your client, or you want to configure your email manually, then below this section is another one labeled Mail Client Manual Settings

Accessing Your Webmail
Click on the Access Webmail link next to your address in the Email Accounts tab

Next click on one of the available webmail clients, you can also install a different one through Softaculous. The one we like is RainLoop Webmail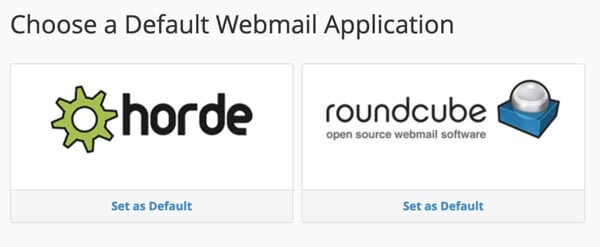 You will be taken to your email inbox immediately
You can also access your Webmail straight from a web browser. Simply navigate to YOURDOMAIN webmail and you will be greeted by this screen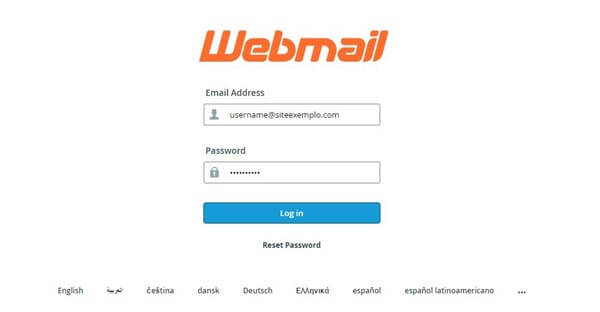 Forwarding Your Email to Another Address
Click on Forwarders to arrive on this screen

From here you can create a simple email forwarder or a forwarder for all your domain name emails
To forward your email, click on the Add Forwarder button. You will see this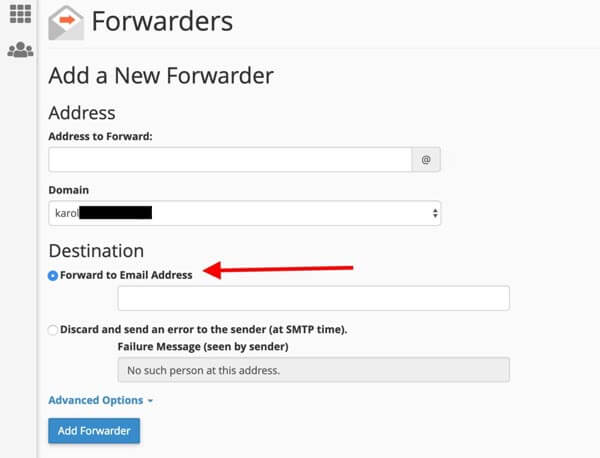 Address to Forward Enter just the user part of the email address that you want to forward. For example, if your email is bob@YourDomain.com then the user part of it is bob
Domain This is the Domain of the email address that you want to forward. For example, if your email is bob@YourDomain.com then the Domain part of it is YourDomain.com
Destination You have two options here. To redirect your email to an existing alternative address select Forward to Email Address. In the field enter the full email address
Also see our cPanel FAQ on Creating Email Accounts
---
Managing Your Files
The FILES section of cPanel is for uploading files, backing up your website and managing your files via FTP
You can use FTP program to manage the files within your website. Or you can use the File Manger explained below
You will be able to log in to your main FTP account using the same cPanel login and pass

To check this click on FTP Accounts from the FILES section. Scroll down to Special FTP Accounts. Your main FTP account should be listed there

By default your main FTP account will have access to the root folder so when uploading files make sure you are in the WWW or public html folder
Also see our blog on What is FTP
Using the File Manager

The File Manager allows you to manage all of your sites files directly from within the cPanel interface rather than having to use a third party FTP client
Click on the File Manager icon (visible in the above screenshot) to begin. What you will see is the central panel of the File Manager
See our cPanel FAQ on The File Manager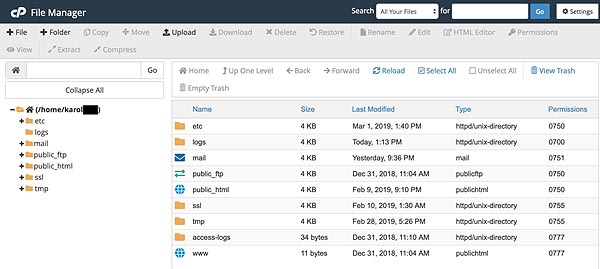 This is where you can view, edit, delete all the files on your Website, You WILL want to proceed with EXTREME caution when making any changes
There are a couple of items to point out on this section. On the left you will find your root (main) folder and some sub folders (see screenshot above)
In the middle of the screen you will see the contents of whatever folder you have selected
Create a New Folder
Click on the "+ Folder" button along with the top menu

You will then be asked to name your new folder and enter the destination where the folder will be created
Uploading Files Using File Manager
To add or upload a file click on the folder where you want to upload the file to
Then click on the Upload button that is in the top menu

You will be asked to drag and drop the file you want to upload or simply select the file from your local drive. You may have to refresh the page and your website page to see the new files

Creating a New FTP Account
This is a good option if you want to give certain users access only to specific folders they need access to. Not to the whole Website
To create a new FTP account click on FTP Accounts from the FILES section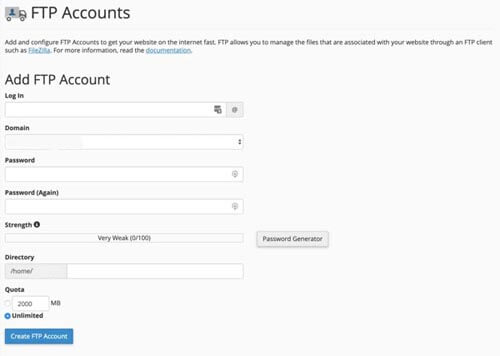 Log In This is the username of the new account
Domain The domain name that the new user account will be assigned to. Pick from the drop down
Directory This defines the new FTP accounts highest level of directory access. If you leave this blank the user will have access to the root. It is advised to input the directory associated with the project that the account is for
Quota The maximum space that the new user can take up. Best leave at Unlimited
You can manage your existing FTP accounts on the same page
---
One Click Install with Softaculous
One of the best features in cPanel is how to install WordPress and other useful programs or apps. This will give you access to more than 450 Apps
See our cPanel FAQ on Softaculous Application Installer
Locate the Softaculous Apps Installer section in your cPanel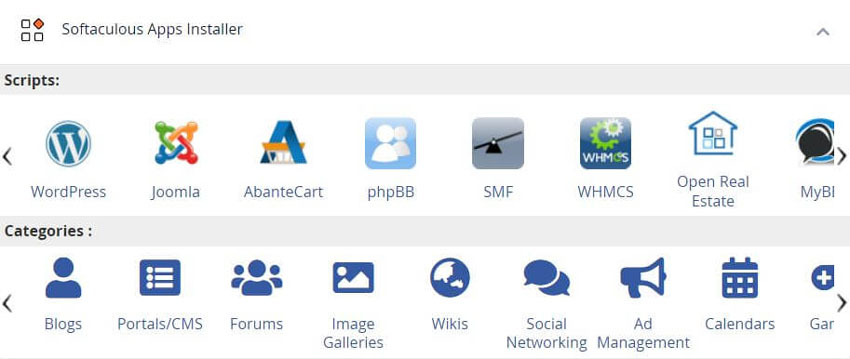 Softaculous has tried to add every web app that is available. On the sidebar there are installers for blogs, microblogs, forums, wikis, ecommerce, and so much more
Look around see what is available. It is amazing
Installing Apps
We will use WordPress as our example. You will see the WordPress logo. Click on it
You will see a screen like this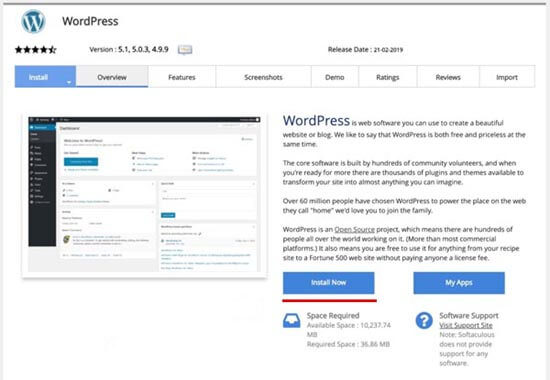 Click the blue Install Now button to begin. Softaculous will show you the following form: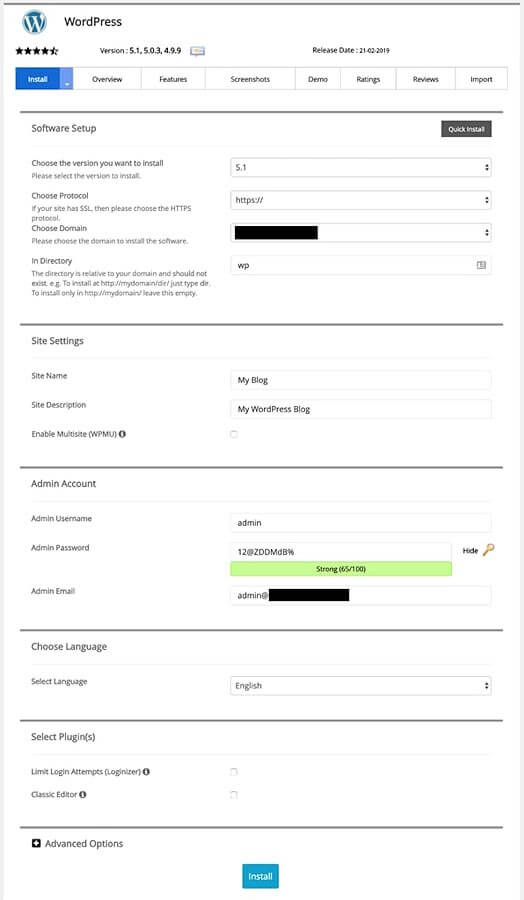 The Software Setup section This will apply to all other apps also
Choose the version It is recommended to always go for the latest available one
Choose Protocol Best to pick https This allows you to integrate your site with an SSL certificate. If not "http" will work
Choose the Domain This is the domain name that you want to add WordPress. Pick from the drop down list
Directory Leave this empty if you are adding WordPress to your domain root. If you want it to be available as a blog to an already existing site, you may want to set the directory to something like blog or wordpress
The Site Settings section
Site Name Enter a name that reflects what your site is called. You can change this later on from within WordPress itself
Site Description You can leave this blank for now. You can adjust this setting from within WordPress later
Enable Multi site Leave unchecked. This is a feature useful only if you are planning to run more than one WordPress installation on the same domain. In a multi site configuration
The Admin Account section
Admin Username This one is important. It is ok to leave the admin name as admin. You might want to change it to something more complex
Admin Password Make SURE you use a very strong password consisting of letters, numbers, characters, and capitals. The installer can also suggest a secure password for you
Admin Email Double check if this is correct
Choose Language
The Select Plugins section

This one is optional. If you want to, you can install some handy plugins right from Softaculous. You can install plugins later on very easily
The Advanced Options section

No need to bother with any of the advanced options just yet
The Select Theme section
You might also see the option to pick a WordPress theme to be installed on your site right out of the gate
You do not need to bother with that now. it is actually easier to do later on once your WordPress has been fully installed
Once done with above options click on Install to get the installation finalized
After a minute or so Softaculous will let you know that your WordPress has been installed successfully. You will also see links that you can use to log in to your new installation
---
Backing Up Your Website
cPanel makes it incredibly easy to back up your site manually. Any time you choose
To start a backup, click the Backup Wizard icon that is in the FILES section of cPanel
You will now see this screen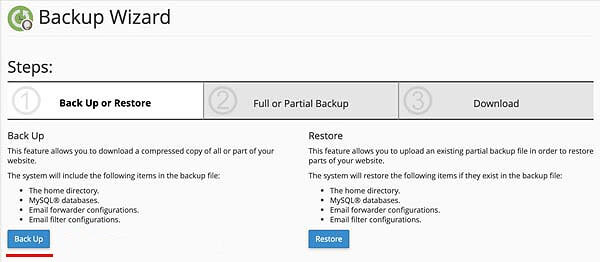 Click on the Back Up button to start the backing up process. You will have the option to choose whether you want a full backup or partial backups
You also can back up your entire account and save it to an external hard drive or another secure location

Once the backup completes you will be able to download it
See our cPanel FAQ on cPanel Backup Wizard
Checking Your Disk Space
You can check how much space you are using for your Website via cPanel
Note Check your disk space periodically to see what parts of your website are taking up the most room, so you know where to compress or delete unnecessary files if needed
To get a general overview of your usage, just take a glance at the right sidebar of cPanel. You will see various info on how much disk space you are consuming, how many databases are set up in total, and more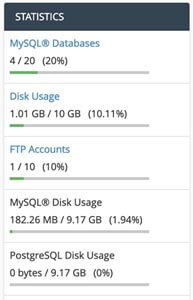 To get a more in depth look click on the Disk Usage icon from the FILES section
You will see a nice summary of how much space your different folders are using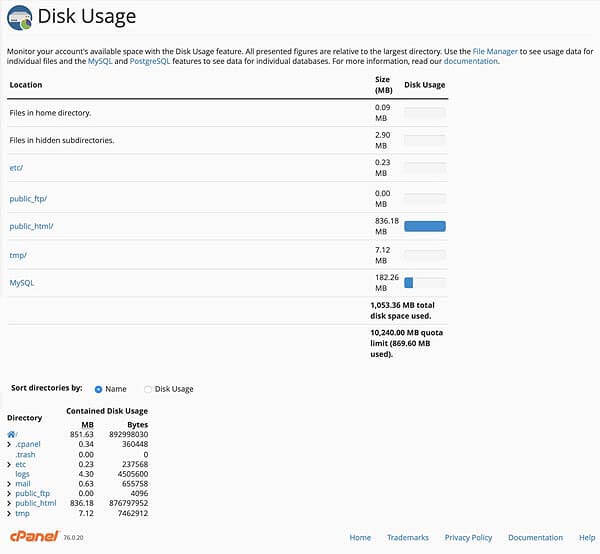 You can also see your quota or limit along the bottom of the first table. In this example the quota in the image above is 10240MB (or 10GB)
---
Checking Your Stats
Another nice feature that is worth a look is the section labeled METRICS

You can find a lot of interesting details there, all informing you about the current status of your Website, the number of visits you are getting and the overall health of the site
Each of these stats sections presents a slightly different take on your numbers
Visitors, Raw Access, Awstats, Webalizer. All focus on the number of visitors your websites have been getting. The presentation varies between each of these sub sections
Errors Present the most recent entries in your websites error logs
Bandwidth Allows you to see the bandwidth usage of your hosting setup
Webalizer FTP Shows you data on all visits through the FTP protocol
CPU and Concurrent Connection Usage Shows you the volume of machine resources consumed by your hosting setup
Comments, questions or leave a reply
Contact Us
---
COMMENTS
Lory J
Nice article, you explained cpanel very well
---
Harry H
So great article and best guide for me thanks
Tweet Share Pin Tumble Email
We welcome your comments, questions, corrections and additional information relating to this article. Please be aware that off-topic comments will be deleted.
Or if you need specific help with your account, feel free to
contact us
anytime
Thank you