Metrics > Error Logs
How to View the Error Logs in cPanel
This feature displays up to 300 of the most recent entries in Apaches error logs for your web pages, in reverse chronological order.
Error details
The interface includes entries in the
/usr/local/apache/logs/suexec_log file
And
/usr/local/apache/logs/error_log file
The interface displays error log entries from the user's home directory. The interface also displays /usr/local/apache/logs/suexec_log file entries that include the username for the account.
The interface scans the most recent 2 MB in each log file. If the server is extremely busy, the portion of the log file that the interface scans may not contain any errors for this site.

To view older entries, access the individual log files.
The Apache log files record all the requests that Apache handles. Tasks that other services handle may have separate log locations.
Viewing Errors in the cPanel File Manager
You can see all the errors your website is generating using the cPanel File Manager interface.
1) Login to cPanel.
2) Click on the File Manager under Files.
3) Move to the /public_html folder, then select and open the "error_log file"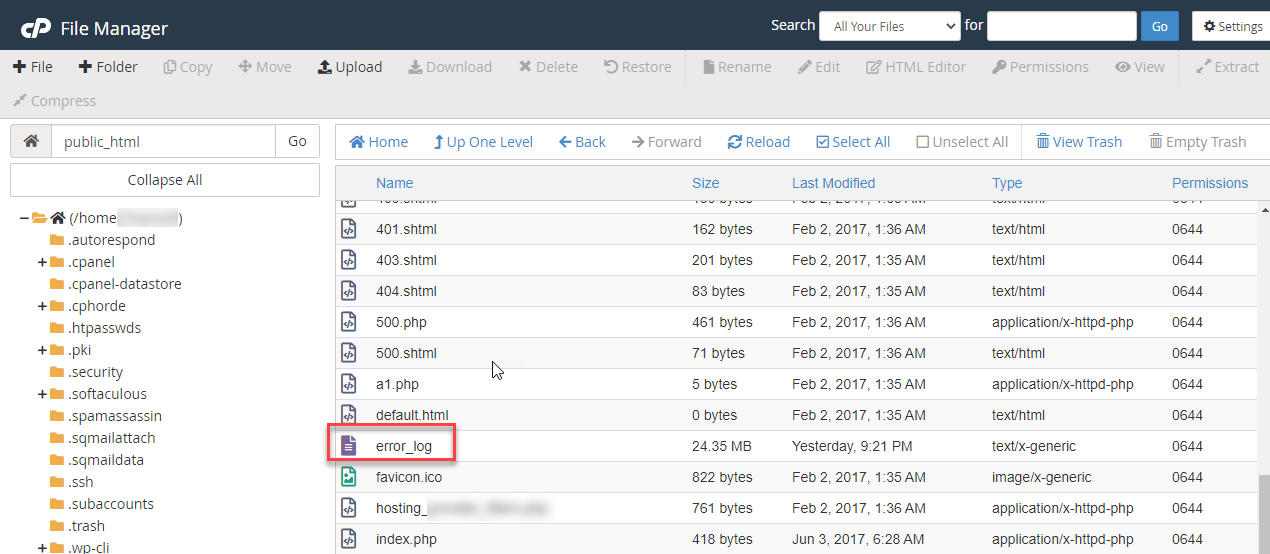 Additional information
The Web Server handles the configuration of the log files. Contact your system administrator to change the level of information in the log files.
For more information about individual error messages and other configuration options, visit the Apache documentation.
Tweet Share Pin Tumble Email
We welcome your comments, questions, corrections and additional information relating to this article. Please be aware that off-topic comments will be deleted.
If you need specific help with your account, feel free to
contact us
anytime
Thank you