cPanel - Software - Softaculous Apps Installer
Softaculous
A software auto-installer that is used to install web applications and PHP classes with one-click. It is the most widely used script installer in the web hosting industry.

Softaculous Application Installer
This is an automatic script installer that is integrated into cPanel that simplifies the installation and configuration of hundreds of scripts.
The installation of major scripts such as WordPress, Joomla, AbanteCart, PrestaShop, Drupal, Open Real Estate, and over 350 more can be accomplished with very little effort
Softaculous is tightly integrated with cPanel and you can access 350+ of the most popular PHP, JavaScript, Perl applications. Softaculous also takes care of the complete life-cycle of the application from Installing to backups as well as auto updating, restoring, script ratings, user reviews and online demo's
You no longer need to manually install applications. You can now install these scripts and apps with just a few clicks of your mouse.
Try the Softaculous Demo
Check out the specifications, read reviews and much more on each application available via the Softaculous Auto Installer.
Location
You can find the Softaculous Apps Installer link in the "Software" section of the cPanel Main Page.
You can also find a dedicated section of the Softaculous Apps Installer which displays the most popular applications and the application category in the front panel.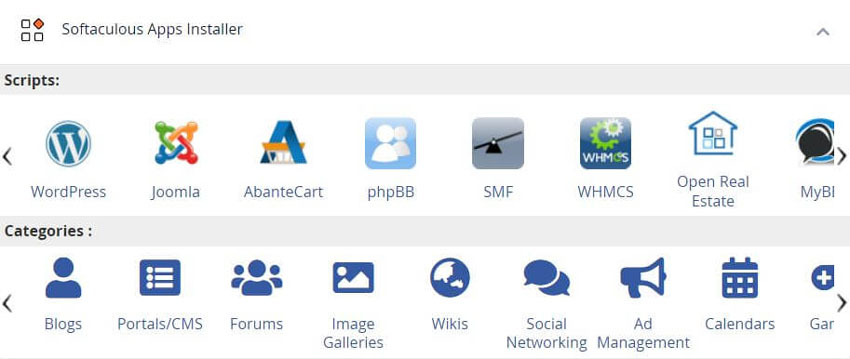 When you will click on Softaculous Apps Installer in the Software section, it will take you to the App Installer interface.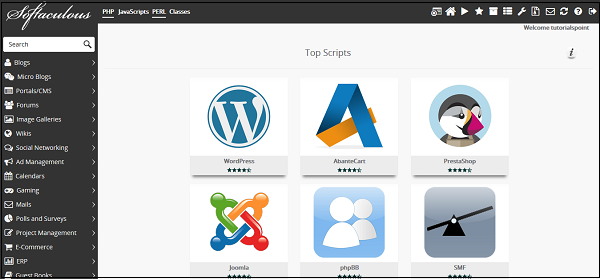 You can install, modify any installation, and create, as well as Manage the Backups.
Install Application using Softaculous Apps Installer
To install an application from the Softaculous Apps Installer, click on any of the categories on the left or search from the search box. There, you can select the application you wish to install.
Click Install and follow the instructions to install the application to your website.
Create Backup of any Application
You can easily create a backup of your application using the Softaculous Apps Installer to restore it to your account later. To create the backup of your application, you will need to go to the list of all installation's section of your Softaculous Apps Installer. Click on the icon at the top of the navigation bar to open All Installations.
In All Installations, you will find the list of all applications, which are installed by the Softaculous Apps Installer.
Click on the Backup icon to create an automatic backup of the whole application installation. This backup will include all the files, database, and configuration of the application. You can always restore the application by going into Backup and Restore interface of Softaculous Apps Installer, which can be opened by clicking on Backup and Restore icon from the top navigation menu.
How easy it is to use the Auto Install
1.) Log into your cPanel control panel
2.) Click the Softaculous icon
3.) Select the Application you want to install
4.) Select where you want it to be installed
5.) Select your username and password
6.) Click "Install" That's it
Tweet Share Pin Email
We welcome your comments, questions, corrections and additional information relating to this article. Please be aware that off-topic comments will be deleted.
If you need specific help with your account, feel free to
contact us
anytime
Thank you