WonderCMS Home Page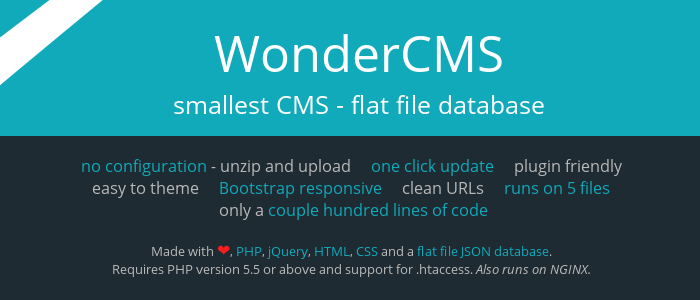 Security features:
WonderCMS supports HTTPS out of the box. Check how to turn on better security mode
All CSS and JS libraries include Sub resource Integrity (SRI) tags. This prevents any changes to the libraries being loaded
WonderCMS encourages you to pick a good custom login URL (in Settings -> Security), as it prevents brute force attacks. Search engines don't index/find your login URL, as it always returns a 404 status
The admin password is hashed using PHP's password_hash and password_verify functions
WonderCMS includes CSRF verification tokens + hash_equals function to prevent timing attacks
Your WonderCMS website is completely independent (detached) from WonderCMS servers

Simple click and edit functionality
Lightweight
Custom login URL
Runs on a couple hundred lines of code and 5 files
Custom homepage
Better password protection
Mobile responsive
Better SEO support
Easy page creating and deleting
The WonderCMS Hosting Solution
Our WonderCMS web hosting packages are fine tuned, reliable, incredibly fast and are ready for you
Pro Personal
5 Email Accounts
5 Parked Domains
5 Sub Domains
1 Website
$2.99/month First 6 Months
Then $5.97
/mo
For Life!
No long term contract
Most Popular
Pro Business
25 Email Accounts
25 Parked Domains
25 Sub Domains
5 Websites
$2.99/month First 6 Months
Then $9.97
/mo
For Life!
No long term contract
Pro Ultimate
Unlimited Email Accounts
Unlimited Parked Domains
Unlimited Sub Domains
Unlimited Websites
$2.99/month First 6 Months
Then $16.97
/mo
For Life!
No long term contract
---
Setting up your WonderCMS website with "One Click" Softaculous Installation though your cPanel. The fastest way to set up your website! You will automatically get an email notifying you when a new WonderCMS version is available. Log into your cPanel and update your installation with a single click so you always have the latest and the most secure version
Offering the latest technologies and enhanced performance with NGINX, HTTP/2, PHP and free CDN. Free SSL Secure certificates. Firewall Security with 900+ WAF security rules to fix zero-day vulnerabilities. DDoS to help stop website hacking. High-speed SSD performance hosting is also included. Over 3 million CMS and Softaculous updates every year.
Frequently Asked Questions (FAQ's)
Why are you not listed on those "Best Website Hosting Reviews" sites
Those are all paid affiliate websites. They get a commission every time someone signs up through their website. You will only see reviews of hosting companies that pay the most affiliate commissions. You can read more about this here.
How long has RSH Web Services been in business?
RSH Web Services has been in business under the same ownership since 1997. We are not the largest company, but we are big enough to count on when you need us and small enough that you will get personalized attention from a dedicated team of experienced web professionals.
What are the Benefits of Owning a Domain Name?
Your personal or professional website is all about making a strong first impression. Your Domain Name allows people around the world to find and view your website. A domain name is a brand identity or business name which is used to make presence online. Also see Choosing The Perfect Domain Name.
Do you have a money-back-guarantee?
All RSH Web Services hosting accounts come with a 45-day money-back guarantee as standard. If you are not satisfied within the first 45 days and wish to cancel, please let us know. And we would especially want to know why, so that we may make changes to our services.
45 Day Unconditional Money Back Guarantee On all Hosting Packages