WonderCMS Website Hosting
Free Domains and SSL Certs
Open source CMS Website Builder

WonderCMS WebSite Hosting
WonderCMS is a completely free website editor, which is also extremely small and simple. It doesn't require any configuration. WonderCMS is a flat file CMS (Content Management System) built with PHP, jQuery, HTML and CSS, developed since 2008. To run WonderCMS, 5 files need to be uploaded to a hosting provider/server. No additional configuration is required. All files can be moved, backed up and restored by simply copy/pasting a few files. Moving them to another host doesn't require any re-configuration. WonderCMS also doesn't require a traditional/relational database like MySQL. The flat file technology enables WonderCMS to save all data to a text file (flat file) called database.js.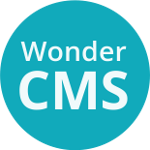 ---
WonderCMS Home Page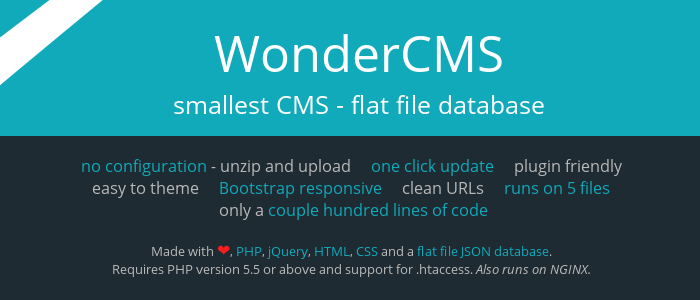 Security features:
WonderCMS supports HTTPS out of the box. Check how to turn on better security mode
All CSS and JS libraries include Sub resource Integrity (SRI) tags. This prevents any changes to the libraries being loaded
WonderCMS encourages you to pick a good custom login URL (in Settings -> Security), as it prevents brute force attacks. Search engines don't index/find your login URL, as it always returns a 404 status
The admin password is hashed using PHP's password_hash and password_verify functions
WonderCMS includes CSRF verification tokens + hash_equals function to prevent timing attacks
Your WonderCMS website is completely independent (detached) from WonderCMS servers

Simple click and edit functionality
Lightweight
Custom login URL
Runs on a couple hundred lines of code and 5 files
Custom homepage
Better password protection
Mobile responsive
Better SEO support
Easy page creating and deleting
The WonderCMS Hosting Solution
Our WonderCMS web hosting packages are fine tuned, reliable, incredibly fast and are ready for you
Pro Personal
5 Email Accounts
Spam Protection
Domain Privacy
Unmetered Bandwidth
5 Parked Domains
5 Sub Domains
1 Website
Lock in this price now
$ 4.97
/mo
For Life!
No long term contract
Most Popular
Pro Business
25 Email Accounts
Spam Protection
Domain Privacy
Unmetered Bandwidth
25 Parked Domains
25 Sub Domains
5 Websites
Lock in this price now
$ 7.97
/mo
For Life!
No long term contract
Pro Ultimate
Unlimited Email Accounts
Spam Protection
Domain Privacy
Unmetered Bandwidth
Unlimited Parked Domains
Unlimited Sub Domains
10 Websites
Lock in this price now
$ 12.97
/mo
For Life!
No long term contract
---
Setting up your WonderCMS website with "One Click" Softaculous Installation though your cPanel. The fastest way to set up your website! You will automatically get an email notifying you when a new WonderCMS version is available. Log into your cPanel and update your installation with a single click so you always have the latest and the most secure version
Making your website faster and safer with the hottest speed technologies and proactive security practices. SSD drives - For more speed we use Solid State Drives on all our Hosting Plans Latest speed technologies: Enhanced performance with NGINX, HTTP/2, PHP7 and free CDN. Free SSL Certificate - Providing Free SSL (HTTPS) certificates with each WonderCMS account. User apps auto-updates: Over 3 million CMS and Softaculous updates every year. Firewall security rules: 900+ WAF rules to fix zero day vulnerabilities
Frequently Asked Questions (FAQ's)
Can I have multiple domains pointing to my website?
Yes, We can "point" other domain names to your existing website with no additional charge to you. You will need to make sure these Domains also use our Name Servers or DNS numbers. This is a great way to expand the marketing of your website
What are these other extensions such as .cc, .ws, .du, etc?
Two character extensions are called country codes and are used for country code designation. They work the same as the .com .net .org.... There are more than 230 country codes for nations and territories around the world
Do you offer any custom hosting packages?
Yes we do. If you are needing services customized to fit your needs please contact us with the details
What are the Benefits of Owning a Domain Name?
Your personal or professional website is all about making a strong first impression. Your Domain Name allows people around the world to find and view your website. A domain name is a brand identity or business name which is used to make presence online. Also see Choosing The Perfect Domain Name
45 Day Unconditional Money Back Guarantee On all Hosting Packages