Chyrp Blog Hosting
Free Domains and SSL Certs
Softaculous Blog Hosting Services, 450+ Scripts
Powerful, Reliable, Stable, Secure Blog Hosting

With a flexible system of "Feathers" and Pages you can make your blog website whatever you like. "Feathers" enable different types of blog content which you can restrict to absolute textual purity or create a multimedia rainbow. Pages let you publish articles separate from your blog content. A simple colophon or a hierarchy of multiple pages. You get four beautiful blog themes and a friendly administration console, all fully navigable on a broad range of devices, thanks to the power of responsive HTML5. Semantic markup and comprehensive ARIA labeling ensure your blog will be accessible to visitors who use assistive technologies. Chyrp Lite also implements a complete WordPress-compatible MetaWeblog XML-RPC API that allows you to do many blogging tasks remotely without having to visit your blog's website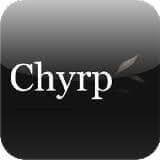 The Chyrp Hosting Solution
Finely tuned, very reliable, incredibly fast and ready for you
Chyrp Blogging Features include
Easy to install, simple to maintain, extensible by design
Built with responsive and accessible W3C-validated HTML5
Universal support for plain text, Markdown, or raw markup
Personalize your blog using powerful extensions
Theme development is easy with the Twig template engine
Manage users and visitors with a comprehensive rights model
Write textual blog entries
Upload images
Make Quotation
Link to other Websites
Upload Videos
Upload Audios
Pro Personal
5 Email Accounts
Spam Protection
Domain Privacy
Unmetered Bandwidth
5 Parked Domains
5 Sub Domains
1 Website
Lock in this price now
$ 4.97
/mo
For Life!
No long term contract
Most Popular
Pro Business
25 Email Accounts
Spam Protection
Domain Privacy
Unmetered Bandwidth
25 Parked Domains
25 Sub Domains
5 Websites
Lock in this price now
$ 7.97
/mo
For Life!
No long term contract
Pro Ultimate
Unlimited Email Accounts
Spam Protection
Domain Privacy
Unmetered Bandwidth
Unlimited Parked Domains
Unlimited Sub Domains
10 Websites
Lock in this price now
$ 12.97
/mo
For Life!
No long term contract
Setting up your Chyrp Web site is the fastest way with the Softaculous Installation though cPanel. And you will automatically receive a notification when a new Chyrp version is available so you always have the latest and the most secure version available
RSH Web offers the latest speed technologies, enhanced performance with NGINX, HTTP/2, PHP7 and free CDN. Providing Free SSL (HTTPS) certificates with each Chyrp account. Firewall Security and DDoS to help stop website vulnerabilities
» Softaculous Demo
See Specifications, Read Reviews and much more on every App available via the Softaculous Auto Installer
» cPanel Demo
Everything is simple and easy with the industry leading website control panel "cPanel"
Frequently Asked Questions (FAQ's)
Do you offer any custom hosting packages?
Yes we do. If you are needing services customized to fit your needs please contact us with the details
What is Website Space?
This generally refers to the amount of space on a web server that is allocated to website owners by the web hosting company. The physical space that will be available to you for your website account which stores your html or text files, images, scripts, databases, emails and other files and will make them available for any one to view on the Internet
What is the difference between shared hosting and VPS?
You may consider the difference as the one between a Dedicated Server and normal Web Hosting. With a "Virtual Private Server" you have all the features of a dedicated server including the ability to have own set of services and customizable disk space. With shared hosting you have limited administrative access. But with most websites shared hosting is the most affordable and best choice
How do I transfer my Website to your Servers?
If you have built your Website with a HTML editor, like Dreamweaver, NotePad++ or Microsoft Expression, You would upload your website files via a FTP (File Transfer Protocol) program. We have a built in File Manager that you can access with our cPanel. However, if your files are larger than 20 MB, we recommend using FTP programs, such as WinSCP, FileZilla or Core FTP
45 Day Unconditional Money Back Guarantee On all Hosting Packages