Alternatives to Google Maps
Not a fan of Google Maps? Maybe you need some tips to help you use it more effectively. Or maybe you would prefer a map application that offers different features, is more reliable, or helps you find low prices for local businesses. Online Maps has become the most popular location based service in the past few years, with millions of mobile devices possessing the highly effective app. The reason for its huge success lies in addressing one of the biggest needs that people have, which is navigation
This is still one of the best alternatives to Google Maps. The service was launched in 2007 and since that time the amount of its fans has been growing rapidly. Yahoo! Maps provide the same free services as Google. You can search for necessary directions, find a location and get information about nearby services and businesses. You may also check information about current traffic situation and plan your journey in accordance with it. To use Yahoo! Maps you need to set your current location and the desired one and to choose if you want to travel by bus, on a car or on foot
Bing Maps is another great map application with several handy options. Formerly known as MapBlast.com, Microsoft acquired the company in 2002 and incorporated it into MSN Maps and Directions, and Microsoft MapPoint. Now known as Bing Maps, you can enjoy many useful features. You can receive driving, transit, or walking directions in either miles or kilometers. Enable options to avoid highways and tolls, set up a certain time to begin your trip, and enter additional stops along the route. For information on a specific city rather than driving directions, you will receive suggestions as you enter the location into the search box. Along with the map, you will see images when available, facts about the location, and points of interest. Save your favorites, share via email or social media, or print the map
Who better to know maps than Rand McNally? Well-known for their printed maps and atlases, their first map dates back to an 1872 issue of the Railway Guide. Since then, the company has grasped the changing technology with navigation software s and GPS devices. If you are visiting the Rand McNally site, you can select Maps & Directions from the top navigation. Then just pop in your starting and ending points to receive both the directions and map. You can add stops along the way, reverse the route, or view round-trip directions. You can select the gear icon to edit your trip settings for the route type and items to avoid. Or you can enter a certain location into the search box instead of receiving directions if you like. Then, pick from road atlas or satellite view, zoom in or out, and print or email the map. The Rand McNally online maps and directions may not offer as many features as comparable sites. However, based on the company's history, you can certainly trust the results
MapQuest has been a reliable source for maps and driving directions for many years. It was founded by a division of R. R. Donnelly and Sons in 1967 and was eventually acquired by AOL. Today, MapQuest remains a prominent player in the map industry with its website and mobile apps. For driving directions, you receive a few route choices with both the directions and the map for your trip. What makes MapQuest stand out with its directions feature is that you can find businesses along your route with a click. Choose from hotels, food, gas, shopping, groceries, and pharmacies where you can stop along the way. If you do not necessarily need driving directions, but want to check out a specific city, that is just as easy. You receive suggestions as you enter the location into the search box. Then, click to find businesses, mark the location as a favorite, or share, save, or print the map. You can also check for traffic incidents, look at satellite views, and send a map to your mobile number. Plus, you can even book hotels, flights, rental cars, and vacations with the Priceline integration. For a solid, reliable alternative to Google Maps, MapQuest has some quality features
As follows from the name, WikiMapia belongs to Wikipedia and lets you search for all sorts of maps like satellite or hybrid maps, in addition to terrain and panoramic ones. WikiMapia is run by volunteers what means, that if some data about your place is incorrect, you may easily change it in a form of a note, thus helping people who are visiting your city. You don't need to have any account to add a note. However, it will be reviewed by the moderators to prevent any kind of mistakes. WikiMapia is a privately owned commercial mapping site, which aims to create and maintain a free, complete, detailed and up-to-date map to the whole world. Over 2 million people uses and around 24 millions objects have been marked by users, according to the information presented by wikipedia. With wide category and easy editing of Maps
While Here Technologies began 30 years ago, some may be unfamiliar with the company. Along with their automotive and traffic products, they offer positioning services and a mobile application. They are also involved in various industries including transportation, healthcare, and asset management. To access the online map, visit the Here.com site and click Wego.Here.com from the top navigation. From there, you can get driving directions, traffic information, and business locations. For driving directions, you can choose from additional route types such as public transit, walking, or bicycling. And, as with other map applications, you will see the directions in written form and plotted on the map. You can then click the In this area arrow on the left to see dining, gas, pharmacy, and hotel locations nearby. The Traffic option from the menu is very handy for planning your travel. You can view light, moderate, heavy, or stopped traffic areas in list form. Plus, you can see the details of the issue including exact location, current speed, and time delay. If you choose the Places option from the menu, you check out attractions, tours, theme parks, and other local businesses. Once you select one, you will see the approximate driving time, can get directions, or click to see a QR code you can zap with your mobile device. If you are interested in an online map service that offers a mobile app companion, then take a look at Here.com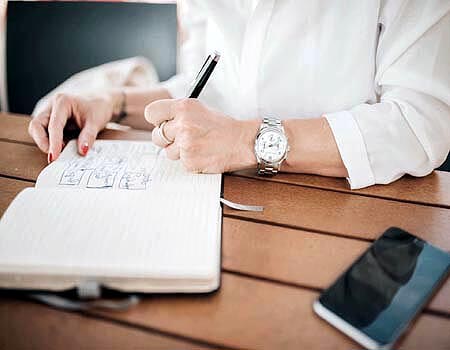 Apps
Apps have not only made navigation much easier but also provides other services such as ride-hailing and weather reports just to name a few. Here are some effective location-based service apps that are great alternatives to Google Maps
When it comes to driving navigation apps, Waze is surely one of the most popular and effective apps available, as evidenced by its use by motorists across the world. All you have to do to start is to turn on your device GPS, input your destination point, and let the app guide you to the right path. Waze chooses the best route available and would automatically adjust should you miss a turn. Other than the actual navigation, users will also be able to be updated about the traffic conditions in real-time through the use of icons. These updates come from traffic authorities and fellow motorists, you would be able to know if there are some hazards and issues along the way. Simple yet effective, Waze is surely one app that would help get you to your destination safely, and even avoid a few traffic jams
One of the most popular location-based service apps around, Foursquare is now divided into two apps, with the main app used for navigation, and one for social media sharing (Swarm). With that in mind, let's take a look at the main app. Foursquare became a popular platform for finding the nearest food and nightlife places near your area. To start, you can pick a category that shows a list of related places, or enter the name of the place in the search bar. After entering a keyword, you can view a list of places that might be of interest or different branches of the place you entered. You can also use the Near Me search bar to bring up a map of places nearby. Each place has its own profile where you can view information such as address and business hours. You can also view reviews from fellow Foursquare users, helping you to know more about the location. Lastly, you can track the previous places that you have visited in the History section, providing you with a log of places that you have been to. Foursquare has gone a long way from what it was before and has surely become a quality navigation app users can enjoy
Navigating using Google Maps requires you to be constantly connected to the internet, which can be a big issue when in an area with a poor Internet connection. Maps.me prevents this problem from becoming a hassle by providing the option to download off-line maps to make sure you won't get lost. Using Maps.me is pretty simple, as you would only need to enter the destination point and set up the starting point to begin your journey. You can use the search bar to find places you want to go to, or press the Discover button to see some recommendations that are closest to your area. Another important feature from Maps.me is the Guides, which users can download to be able to view the recommended locations that locals go to in the area. Maps.me is a wonderful and simple alternative to Google Maps that provides solid functionality, and the ability to navigate even while off-line
Another app that can be used for driving, Here WeGo is another app that uses GPS to track your location and look for the quickest and most efficient route possible. The interface is simpler compared to Waze, but its ability to track down the best routes is pretty similar. After entering the location, you have the option of choosing your way of traveling to the location, which can be driving, train, biking, or walking. You can also click locations on the map to instantly get directions to your destination. You also have the option of changing the map type from traffic, standard, and transit. This provides you with a more detailed look that helps you find places much better. Like Maps.me, you also have the option of downloading maps for off-line use, which comes in handy for long trips to places without an internet connection. Overall, this is a reliable navigation app that helps you find all possible routes to your destination and get there on time
inRoute is an iOS exclusive app, but it is arguably the best route planning app available to use. It is the only voice guided navigation app that checks your routes automatically and brings you real time weather notifications. The app lets you plan your routes based on various characteristics like weather, elevation, curviness, daylight, safety and more. It shows these characteristics in interactive charts, so that you can see if a certain route is good enough for you or not. You can also easily shuffle between routes to change stops in between or if you think another route is shorter. Other features of the app include custom routes, search in routes, ability to set departure & layover times, save routes or places and more. It also lets you export routes to Apple Maps, Google Maps, MapQuest and GPS devices as well. inRoute is available in a free version but it's a bit limited. The premium version of inRoute lets you add 25 places per route, optimism way-points, iCloud sync, advanced route search and more
Most apps including Google Maps are great, but they aren't really aimed at people who make their way across the city through public transportation. This is exactly where CityMapper excels, as it makes public transit a lot easier, thanks to its real time data and other features. CityMapper includes a multimode journey planner that covers most transit ways including subway, bus, metro, cycle, trains, rail, tram, ferry, Uber, car sharing and more. It has a "GO" assistant feature, which helps you out with real time suggestions and instructions. The app has Uber integrated for cab booking and Foursquare, Yelp and Twitter are integrated for live transit updates. CityMapper includes transit maps and real time alerts for the next bus, timetables or any disruptions. It lets you share your coordinates or status easily through WhatsApp, Twitter or email. Moreover, the app also supports Android Wear and fitness features like "Calories", which is a distance tracker that lets you know the calories you've burned through walking or cycling. CityMapper is only available for a few major cities like New York, San Francisco, Washington, Chicago, Boston, Toronto, Vancouver, Hong Kong, Tokyo, Singapore, London, Paris, Belgium, Barcelona and some more. While CityMapper does use Google Maps API for its app, its features sets the app poles apart from Google's offering. The developers are also constantly working to add new cities, and you can vote for your city here. CityMapper can be accessed from your preferred browser or can be installed as an app on Android and iOS devices
If you are looking for an app that focuses on your hiking and biking needs, Komoot is the one you should install. Komoot is the perfect app if you go on adventures often and love biking & trekking. It uses topographic maps with turn-by-turn voice navigation, and it also recommends tours that suit your fitness levels & preferences. There's ability to check tour details like surface, difficulty, elevation & distance and when you are traveling, it keeps you up-to-date on the ETA, along with details on how much distance you have covered. Komoot "Highlights" are the recommendations from different users, and you can add yours as well. You can add pictures, tips and even vote on various tours. The app also allows you to download maps for off-line usage. It also syncs with your different devices, so that you don't have to get all the details from scratch. Komoot is available for Android devices and iPhone, so if you are an outdoor adventure enthusiast, cyclist or hiker, do check out Komoot
Three Open Source Alternatives to Using the Google Maps API
The rise of data mining, mobile applications and social media, among many others, has dramatically changed the face of Geographic Information Systems (GIS) and what they can accomplish. This has led to the creation of tools suited to various use cases. The most obvious place to begin when thinking about GIS is the web maps available through the Google Maps API.
Leaflet's small library makes it a great option for creating interactive JavaScript maps for mobile applications where load time is vital. However, the long list of available plugins provides additional functionality and the library is supported by comprehensive documentation, making it ideal for beginner and more experienced developers
The library offered by Modest Maps is even smaller than Leaflet's, but the modular design makes it a great way to create simple maps or select only the components relevant to each specific project, streamlining the development process
This option is far more comprehensive than the previous two, allowing the creation of interactive tile-based maps or maps that leverage SVG-based vectors. SVG (Scalable Vector Graphics) allows CSS styling options for web documents to be applied to map design. Polymaps JavaScript library also expertly handles zooming for smooth performance.
Summary
Google Maps may still be the most popular navigation apps around, but these alternatives are able to provide diverse functionality and some handy little features that would make sure that you would be able to navigate safely and find the places you need to go
We welcome your comments, questions, corrections and additional information relating to this article. Please be aware that off-topic comments will be deleted.
If you need specific help with your account, feel free to
contact us
anytime
Thank you
COMMENTS
---
Tomas Barington
Thanks for sharing. It's really a good post
---
Kim Mourik
Good information. Very informative. I am to create website. This article definitely helped me
---
Catheirne Rieley-Goddard
Thanks for sharing such awesome tips. I am sure with these tips many of your readers will help their website
---
Tweet Share Pin Email