Should I wipe my Smartphone Before I Sell?
Before you trade, sell, give away or throw away your Android or iPhone. It is important that all your sensitive or personal data be removed. Leaving personal information on your old devices can expose your private information or even lead to humiliation. No matter who your old phone or tablet goes to, you should always wipe it before giving it to them.
Protect your Privacy
The main reason to completely wipe your device is to protect your privacy. But it will also make it easier for the new owner to set it up "As New".
There are several important things to do when removing your data from your old phone.
A simple factory reset will not always erase all the data. The new owner might be able to restore your files, messages and even photos. Some apps and browsers might store your login details and passwords, which also could be retrieved. Before you sell your device, make sure that you wipe it completely.
How to wipe your iPhone
First, back up your data. There are two ways you can do this. If you only want to back up your messages, contacts, and emails, we recommend doing so on iCloud. To select which apps you want or don't want to back up, go to:
Settings > Your Name > iCloud
and then select them under "Apps using iCloud". If you want to back up your call logs, you can only do so by using third-party software like iPhone Backup Extractor or iExplorer.
To back your information up, go to:
Settings > Your Name > iCloud > iCloud Backup > Back Up Now.
If you have photos or music that you would like to keep, then sync your phone with iTunes. For a step-by-step guide, visit Apple's Support page.
Sign out and turn off services like:
iMessage: Go to Settings > Messages > Switch off iMessage option
Wallet & Apple Pay: Settings > Wallet & Apple Pay > Card > Remove Card
Find my Phone feature: Settings > Your Name > iCloud > Find my Phone
Your Apple ID: go to Settings > Your Name > Sign Out. You will be prompted to enter your password.
Next, sign out of apps that store your login details, like Facebook and Gmail, and make sure they don't retain those details.
Delete any saved passwords from your browsers. Click here to find out how.
Remove your SIM card.
Restore your factory settings. Go to
Settings > General > Reset > Erase All Content and Settings > Confirm your choice.
Remove your device serial number from your Apple account profile.
Go to Appleid.Apple.com, log in to your account and scroll down to "Devices". Here you will see all the devices linked to your Apple ID. Click on the device you wish to sell and click "Remove"
For more info from Apple.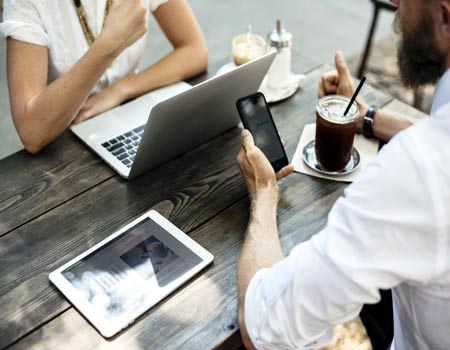 Apple Watch
To find out how to unpair and erase your Apple Watch from Apple Support.
How to wipe your Android
Before wiping your Android, we suggest you start by backing up your data
You can do this by clicking
Settings > System > Backup and turning on "Back up"
Your files, folders and photos should now be secured in your Google Drive and you will be able to upload this information on your new device.
Delete photos and files from your phone.
If you have an Android 8.1 or later, your text messages (but not your call log) will be backed up automatically. If you want a more secure way to save your text messages and your call log, you can use SMS Backup and Restore, a Google app that will back everything up on your Gmail account. For a step-by-step guide.
You also might want to sync your apps to your Google account. Apps made by Google will sync to your account automatically, unless you manually turned the settings off. If so, you can sync them by going to Settings > Users and Accounts > Account Sync > Sync Now. Please note that to sync other apps, you will have to check individual app settings and sync them manually.
Next deactivate factory reset protection
If your Android device came with 5.0 Lollipop or a later operating system, your phone will have Android device protection or factory reset protection (FRP). You will need to deactivate it, otherwise the new owner won't be able to use your phone
If your phone came with an older operating system, you can skip to the next step. If you are unsure which version your phone is running, then take a look by going to "Settings" > "About - Device/Phone" > "Software Info"
To deactivate the "factory reset protection" go to:
Settings > Security or Lock Screen Security > Screen Lock and turning it off.
Log out of your Google accounts
Settings > Users and Accounts, select your accounts, and then click "Remove". (If you have a Samsung device, remove the accounts from your phone or tablet too).
Delete any saved passwords from your browsers
Remove your SIM card and any external storage.
Encrypt Your Phone.
A simple factory restore doesn't completely wipe all the data on your phone, and it can be easily recovered. Encrypted data means that even if the new owner of your device tries to restore your data, they won't be able to access it
To encrypt your data, go to
Settings > Security > Encryption & Credentials.
Upload Junk Data.
For an extra layer of security, you can also upload junk data on to your phone and only then perform a factory reset. Just upload a few video files or any other data to fill your internal phone storage. This method will make restoring the sensitive data you've already encrypted genuinely impossible.
Now you can reset your phone to its factory settings
Do so by going to
Settings > Backup & Reset > Factory Data Reset.
Remove the device from your Google account
Go to your Google account's "Recently Used Devices" section
Once you log in, you'll be able to see which devices have connected to your account and are linked to it. Find on the phone you are selling, click on it, and then click on "Remove".
We welcome your comments, questions, corrections and additional information relating to this article. Please be aware that off-topic comments will be deleted.
If you need specific help with your account, feel free to
contact us
anytime
Thank you
Tweet Share Pin Email.