Secure Mobile Transactions
Mobile devices and Smartphones has only been around for a couple of years now
They have grown to be not only popular, but a necessity. There are more now than we have ever seen before.
How can you be sure you are secure when making purchases on your Smartphones? Your Mobile Devices can often be less secure than computers. This is also true within your own home network.
There is also the real possibility of running into exploits within mobile apps. Security for mobile phones has been growing daily, and the need is tremendous.
We all should watch how Security trends unfold over the next few years. But in the meantime, below are some tips you can use to make sure you are protected when purchasing on your smartphone, tablet or PC.
Download Apps only from Trustworthy Sites
Visiting a wrong app source can get your device infected. They can push malware and viruses to your smartphone without your permissions and can even display fake download buttons. Downloading 3rd party applications from other sources outside the App Store or Android Apps on Google Play can be risky.
When shopping on your phone, we suggest you check out the App Store first and see if you can locate a native app. These are usually more secure and less buggy than mobile websites. Plus, you will have access to all the major shopping products and categories.
Read App Reviews and Ratings
When at the App Store, do not just download the first app you see. There are third-party developers who will create apps for online stores that may not be affiliated with them.
This may be rare, but you can see where all the trustworthy applications can be found.
On the listing pages for the apps, you will notice each application has a rating mark. This can range from half star to five stars. You will also see how many people have voted for the app, with or without reviews. The reviews can be more helpful than a star rating because you can actually read their feedback. We suggest checking the app reviews before downloading and or purchasing items through their software.
And do not put much stock in Trustpilot.
Do a Google Search for
What is wrong with Trustpilot
Trustpilot Sucks
Trustpilot Complaints.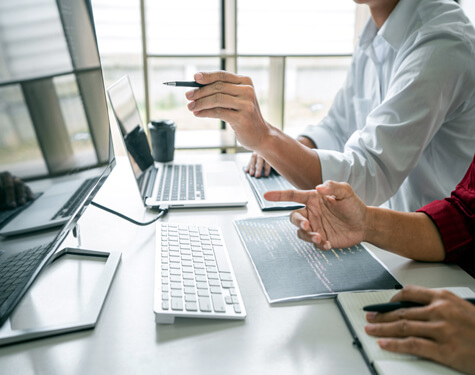 Use Passwords
If you are among those that feel uncomfortable setting up passwords to lock their mobile device. Or if you are sometimes forgetful, then you may not like this option. But always remember, the best protection against somebody gaining access to your Accounts from your device is by using a good and strong Password. When somebody tries to open your iPhone or Android, it will always require a pass-code before they can gain entry. This is probably the best security solution, especially if you are traveling anywhere with your devices. This will can protect you if your device is ever stolen.
Tips for Using Public Wi-Fi Networks from the Federal Trade Commission.
Accidents happen and people lose their mobile devices all the time. What a dangerous situation if your phone had direct access into your bank accounts, personal information, home addresses and shopping carts. It may be possible to lock specific applications, but this may prove more complex than useful. Conclusion: Use a Password.
Only use a Secure Internet Connection
Whenever you are purchasing or transferring money online, always do this over a Secure connection. Without using SSL, your Internet traffic is not encrypted. Most people understand that sensitive information, such as credit card numbers or address data, should be transmitted using a Secure connection only. And that transferring your personal information over a public Internet connection is just a bad idea.
Check ALL Mobile Websites for HTTPS
There will be situations where you want to use your mobile device. When you can not wait until you have access to a computer, then mobile shopping can be a handy device indeed.
When you log onto any website. Always check for the secure HTTPS connection. This will guarantee that any data passed between your device and the server is only shared between those two machines. You can get into a lot of risky business by sending your personal information over the Internet via unsecured HTTP. And check for that padlock icon before doing any shopping or sending your personal information.
In many instances, it may be worth waiting until you can get onto a laptop or desktop computer. Many E-commerce websites are created first for home computer use, and mobile support second. Why not wait and make sure your order is placed securely and correctly.
Watch Your Statements and Report Suspicious Activity Immediately
If you are ever in doubt about your accounts being compromised, taking action. Changing your passwords if you feel it may have been compromised. Often times your instincts may be right on without having any reason of why.
Also, do not forget to log into your banking accounts to make sure there is no suspicious activity. Look for transfers or withdrawals which you did not authorize. It never hurts to be extra cautious when handling your money online.
Check you Apps
Many apps have both Android and iOS support for the majority of smartphone users. Remember to check reviews and see what kind of experiences other users are having.
Before you download, check the developer and see if they are a trustworthy name. You can match the developer's name with the company name and figure out the relation between them.
Wikipedia mobile applications
A number of organizations within the Wikimedia movement including the Wikimedia Foundation publish official mobile apps for using Wikipedia on mobile device operating systems.
Outlook for iOS and Android
Outlook mobile delivers a connected experience across email, search and calendar and deeply integrates with Office apps, files and teams.
Apps for Microsoft Windows 10
Microsoft Store has nearly everything you could want for your Windows device, including the latest games, popular movies and TV shows, creativity software, apps,1 and more.
PayPal
Read reviews, compare customer ratings, see screenshots, and learn more about PayPal. Download PayPal Mobile Cash and enjoy it on your iPhone, iPad, and iPod touch.
Amazon
Browse, search, get product details, read reviews, and purchase millions of products with Amazon International Shopping.
eBay
Buy, sell, and discover deals on the things you love most—from rare sneakers and luxury watches, to trending trading cards and top tech.
Newegg Mobile
Upgrade your online shopping with Newegg.
Etsy
The Etsy app lets you shop millions of one-of-a-kind items straight from your iPhone and iPad.
Android Apps on Google Play
Enjoy millions of the latest Android apps, games, music, movies, TV, books, magazines & more. Anytime, anywhere, across your devices.
Security and Apps for iPhone
msn.com
iPhone Security: Does an iPhone Need Antivirus Software.
AVG
The Best iPhone Security Apps and Privacy Software.
support.apple.com
Use the built-in security and privacy protections of iPhone.
iGeeksBlog
Best security apps for iPhone and iPad.
CNET Download
iOS Apps for Security.
iskysoft.com
Best 14 Free Security Apps for iPhone/iPad.
safetydetectives.com
Five Best iPad and iPhone Antivirus Apps.
Goodwill Community Foundation
iPhone Basics: Security and General Settings.
Security and Apps for Android
Android Developers
App security best practices to use.
androidauthority.com
The best security apps for Android that are not antivirus apps.
geekflare.com
Fifteen Security Apps to Protect Your Android Devices.
lifewire.com
Four Best Free Antivirus Apps for Android Phone.
computerworld.com
Eleven Android settings that will strengthen your security.
Linux Hint
Best Security Apps for Android.
Android Open Source Project
Secure an Android Device.
joyofandroid.com
Five Best Home Security Apps for Android to Protect the Family.
We hope this page offers you some insights into security on the Internet
Security is a topic RSH Web Services is very passionate about
We welcome your comments, questions, corrections and additional information relating to this article. Please be aware that off-topic comments will be deleted.
If you need specific help with your account, feel free to
contact us
anytime
Thank you
Tweet Share Pin Email.