Plogger
The next generation in open-source photo gallery systems

Plogger Web Site Hosting
A web application not bloated with superfluous features or complicated configuration settings. Plogger is a simple yet powerful tool — everything you need to share your images with the world. Plogger is your photos integrated into your website, a fully featured photo sharing package with an attractive and easy to use administrative interface that makes managing your galleries a breeze. Integrating our gallery software into your website is as easy as inserting three lines of PHP code
---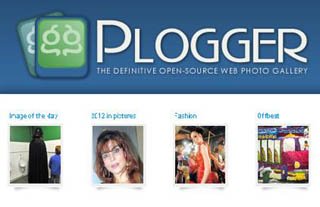 Easy Gallery Creation — You can upload photos one at a time from the web based administrative tool or use an FTP connection to import your photos in groups. Plogger has two levels of organization, allowing you to organize your images efficiently and easily
Extensions / Plugins
Smart Content
Better SEO
Extended International Support
More Options
Security
Build your Own Themes
Plogger XML Service
Description fields for pictures
Easy Gallery Creation
Automatic Thumbnail Generation
RSS support
Integrated JavaScript Slideshow
The Plogger Hosting Solution
Our Plogger web site Image Hosting packages are fine tuned, reliable, incredibly fast and are ready for you
Pro Personal
5 Email Accounts
5 Sub Domains
1 Website
Lock in this price now
$ 4.97
/mo
For Life!
No long term contract
Most Popular
Pro Business
25 Email Accounts
Unlimited Sub Domains
5 Websites
Lock in this price now
$ 7.97
/mo
For Life!
No long term contract
Pro Ultimate
Unlimited Email Accounts
Unlimited Sub Domains
10 Websites
Lock in this price now
$ 12.97
/mo
For Life!
No long term contract
Plogger: Online Photo Album
Setting up your Plogger website with "One Click" Softaculous Installation though your cPanel. The fastest way to set up your Plogger website! You will automatically get an email notifying you when a new Plogger version is available. Log into your cPanel and update your installation with a single click so you always have the latest and the most secure version
Making your Plogger website faster and safer with the hottest speed technologies and proactive security practices. SSD drives - For faster website speed we use Solid State Drives on all our Plogger hosting plans. Latest speed technologies: Enhanced performance with NGINX, HTTP/2, PHP7 and free CDN. Free SSL Certificate - Providing Free SSL (HTTPS) certificates with each Plogger account. User apps auto-updates: Over 3 million CMS and Softaculous updates every year. Firewall security rules: 900+ WAF rules to fix zero day vulnerabilities
Frequently Asked Questions (FAQ's)
What Control Panels do you provide?
We provide cPanel as the standard control interface with all hosting packages. With over 80 different features it is one of the most powerful but easy to use. with just a few clicks you can add email accounts, MySQL Databases, Addon Domains and many more
How do I transfer my Website to your Servers?
If you have built your Website with a HTML editor, like Dreamweaver, NotePad++ or Microsoft Expression, You would upload your website files via a FTP (File Transfer Protocol) program. We have a built in File Manager that you can access with our cPanel. However, if your files are larger than 20 MB, we recommend using FTP programs, such as WinSCP, FileZilla or Core FTP
Can I have multiple domains pointing to my website?
Yes, We can "point" other domain names to your existing website with no additional charge to you. You will need to make sure these Domains also use our Name Servers or DNS numbers. This is a great way to expand the marketing of your website
What are the Benefits of Owning a Domain Name?
Your personal or professional website is all about making a strong first impression. Your Domain Name allows people around the world to find and view your website. A domain name is a brand identity or business name which is used to make presence online. Also see Choosing The Perfect Domain Name
Tweet Share Pin Tumble Email
45 Day Unconditional Guarantee On all Plogger Hosting Packages No questions asked