Composr CMS Website Hosting
The versatile Content Management System for next generation websites

Composr WebSite Hosting
Composr is a very flexible CMS with advanced social, interactive and dynamic functionality. Hundreds of features are available out of the box, as well as building blocks, and further addons (think multi-channel content delivery). Composr is embraced by Fortune-100 companies, government agencies, and small startups. We make all the best ideas available to everyone. Composr uses a number of built-in languages to build up web content and structure
Some unique (or rare) features of Composr are: Automatic banning of hackers (if hacking attempts are detected). Core integration with spammer block lists. Integration with third-party forum software for user accounts and forums[16] (although this is no longer a focus. Automatic color scheme generation using color theory. ATAG compliance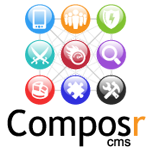 ---
Composr Home Page

Banners Multiple campaigns : Each one can specify it's own width-by-height (e.g. skyscraper). Smart banners : Integrate text-banners into your content via keyword detection. Broad media compatibility : image banners, flash banners, external banner rotations, and text banners
Search engine Choose what is search-able. Boolean and full-text modes. Keyword highlighting in results. Search boxes to integrate into your website
Featured content Random quotes : Put random quotes (e.g. testimonials) into your design. Showcase popular content : Automatically feature links to your most popular downloads and galleries
Tags Set tags for content and display tag clouds
The Composr Hosting Solution
Our Composr hosting packages are fine tuned, reliable, incredibly fast and are ready for you
Pro Personal
5 Email Accounts
5 Sub Domains
1 Website
Lock in this price now
$ 4.97
/mo
For Life!
No long term contract
Most Popular
Pro Business
25 Email Accounts
Unlimited Sub Domains
5 Websites
Lock in this price now
$ 7.97
/mo
For Life!
No long term contract
Pro Ultimate
Unlimited Email Accounts
Unlimited Sub Domains
10 Websites
Lock in this price now
$ 12.97
/mo
For Life!
No long term contract
---
Setting up your Composr website with "One Click" Softaculous Installation though your cPanel. The fastest way to set up your website! You will automatically get an email notifying you when a new Composr version is available. Log into your cPanel and update your installation with a single click so you always have the latest and the most secure version
Making your website faster and safer with the hottest speed technologies and proactive security practices. SSD drives - For more speed we use Solid State Drives on all our Hosting Plans Latest speed technologies: Enhanced performance with NGINX, HTTP/2, PHP7 and free CDN. Free SSL Certificate - Providing Free SSL (HTTPS) certificates with each account. User apps auto-updates: Over 3 million CMS and Softaculous updates every year. Firewall security rules: 900+ WAF rules to fix zero day vulnerabilities
Frequently Asked Questions (FAQ's)
What is Website Space?
This generally refers to the amount of space on a web server that is allocated to website owners by the web hosting company. The physical space that will be available to you for your website account which stores your html or text files, images, scripts, databases, emails and other files and will make them available for any one to view on the Internet
Is RSH Web Hosting Developer Friendly
Since our launch in 1997, RSH Web Services has a strong focus on providing the latest and best versions of the most popular development software. A short list of the development software available includes: PHP MySQL HTML-XHTML Java PostgreSQL Python ERL Apache Node.js CSS FTP/SFTP cPanel Softaculous and Free SSL. Coding or Script Libraries are also available
Can your hosting services be SEO friendly?
Search Engine Optimization (SEO) is a widely used marketing tool for most all web sites today, web hosting can impact its effectiveness. RSH Web Hosting provides SSD Servers to increase the speed and responsiveness of your website, which will factor into your SEO ranking
Do you have CRON support?
Yes, CRON is fully supported and manageable through the cPanel interface Use the Cron Jobs interface to automate certain commands or scripts on your site to run at a specific time
45 Day Unconditional Money Back Guarantee On all Hosting Packages