Improve Your Website
It has never been more important to have a great-looking website. However, with so many website building tools enabling anyone to make a website. Even with little to no technical skills. It is getting more and more difficult to make your website stand out.
For designers, the stakes are even higher because an exceptional looking website is not just "Nice to Have" It is mandatory today. After all, if you are not able to do a great job with your website, why would clients expect you to do any better for them?
Technical Website Audit
A technical audit is a set of tests to check the site for various errors. These tests allows you to identify errors that negatively affect the functional operation of your website They and can also effect the ranking in search engines.
Validate your HTML, XHTML etc.
This validator checks the markup validity of HTML and your web documents.
Checking for Duplicates Pages
Identifying duplicate content issues is a crucial part of any audit.
404 Error - Not Found Pages
Check for broken links that can damaging your website's rankings and usability.
Image ALT attribute Check
Alternate Image Text or Alt Text is descriptive text that is displayed in place of an image if it can not be loaded.
Mobile Friendly or Responsive Design
Test how easily a visitor can use your page on a mobile device.
User Accessibility
Check your website against accessibility standards to make their web content more accessible to individuals with disabilities.
Check XML Sitemap Status
The XML sitemap serves as a map for Google and other search engine crawlers. It essentially helps the crawlers find all your web pages.
Include Well-Designed and Written Headings
Your headings and content should be driven by what your potential customers are looking for. Keywords in your title is also important for targeting your message and attracting the right audience. One good in depth keyword research tool is SEMScoop. Search Engines typically give headings more weight over other content, so choosing the right heading and making it stand out can significantly improve your search ability. But more importantly, Headings will guide your user through the site, making it easy to scan through and find content that speaks to them directly.
Page Speed
One of the most frustrating experiences for users of the web is waiting for a page to load for too long. With the rise of the mobile devices, people are accessing content all over the world on different platforms. People have come to expect fast results for any website that they visit. When they do not get it, they usually bounce. Slow page loading time can be a source of frustration, and often users simply do not have the time to wait. A 2-second delay in load time during a visit results in abandonment rates of up to 87%
Take a look at Website Tune Up from RSH Web Services. May just be what your website needs.
Use White Space
On more than one occasion, I have heard clients complain that there was too much white space on their site and that this unused real estate ought to be used for advertising more of their services. However, white space is essential to good design. White space makes your content more legible, while also enabling the user to focus on the elements surrounding the text. According to Crazy Egg, white space around text and titles increases user attention by 20%. White space can also make your website feel open, fresh and modern and if your branding is consistent with these then it can help you communicate that feeling to the user. One downside of white space to keep in mind, however, is that it does indeed take up space.
Use Hyper Link Differentiation
When you add a link to any page, you are saying you want the user to click there. Make sure links are easily identifiable by visual cues. Underlined text, and different colored text, draws the attention of the reader and lets him know that this is a link. Most regular website users sees Blue and underlined text as links and knows to click on them. Exploiting user expectations and what they already know about using the web is tantamount to success. When it comes to Hyperlink differentiation, you do not need to reinvent the wheel. Sticking to convention can be your best ally here. A simple way to test how effective your links are is to blur and remove the color from the design and see what stands out. When hyper linking, also stop to think about the length of the hyperlink. The longer the links, the easier it is to identify it as a hyperlink.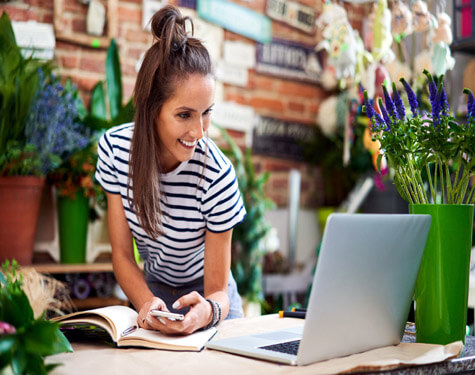 Use Bullets, Bullets and more Bullets
Bullets will enable the user to quickly get all the information they want: benefits, ways you solve their problem, and key features of a product or service, all in a short amount of time. This will make your propositions more attractive and will enable the user to get all the information they need. Additionally, you do not have to go the traditional route with a simple circle. With tons of cool icons out there, you can also get creative with your bullet and help the reader further with images that represent your point. This is also useful because it will force you to isolate the most important points you are trying to make without getting caught up in terminology or specifics.
Using Images
But using images wisely
People across the Internet are getting smarter and faster at judging company websites. When they first visit your site, they are easily able to pick out a generic stock photo that they have already seen elsewhere or that resembles a non-personal style. Using some types of stock photography can decrease trust and also stand out as generic and non-unique. Unfortunately, these associations carry over to your business as well. In a case study, they were able to increase conversion on a page by simply replacing a stock photo with an image of the actual employees.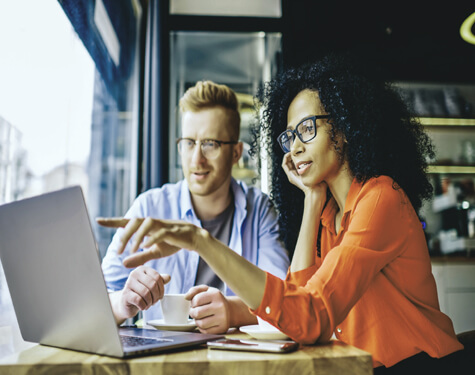 Use a "@YourDomainName" Email Address
For people to take your business seriously
You need to show that you take it seriously as well.
No matter how great your website looks, something will feel off if your clients are receiving emails that do not match your Website's domain name. Give your website more credibility by extending your branding and getting a you@yourdomain email address. Plus, you can even make your business seem bigger than it really is by registering multiple email addresses like
info@YourDomainName
support@YourDomainName
press@YourDomainName.
Keep Your Website Consistent
Consistency means making everything match. Heading sizes, font choices, coloring, button styles, spacing, design elements, illustration styles, photo choices, etc. Everything should be themed to make your design coherent between pages. In order to provide your user with a beautiful experience as they navigate through your site, it is important that they know they are still in your website. Drastic design changes from one page to the other can lead your user to feel lost and confused and to lose trust in your site. "Am I in the right place?" This is a question I often find myself asking when navigating through inconsistent sites. And when I do, I usually end up leaving. Inconsistencies in design lower the quality of the products and services you are providing in the viewer's eyes.
Do You Really Need All Those Widgets?
When you are first building your website, it is easy to get carried away with widgets. You may be thinking - I can show my Tweets and everyone who Likes my page on Facebook and a Google Street View map.
Take a good look at these widgets and ask yourself if they are serving any real purpose. Only tweet once a month? Only have 18 likes on Facebook? How important is your location for visitors to know? Might be time to take these off of your site then. Let us not forget about mobile. If these widgets take a long time to load on smartphones, or worst may not even work, then it is definitely time for them to go.
Shorten or Delete Some Copy
As much as I would love to believe that you are on the edge of your seat reading every single word of this article. The reality is that we all skim website content. This is one thing for a blog post, but is a more serious challenge for a homepage or other main section of your site. This is your best chance to sell people on your product or service, which is why you need to make every word count. If your website has paragraph after paragraph of copy, it is time to start editing. Read over your copy and ask whether each sentence needs to be there. Are two sentences essentially saying the same thing? Combine them. Do neither of them add anything important? Delete both of them. Shortening your copy gives you better odds that your main messages will be communicated and that your site looks less intimidating to visitors wanting to learn more about you.
Switch Up the Calls-To-Action
Calls-To-Action (CTAs). These are the main links (often a button) that are intended to encourage a reader to move onto whatever you have defined as the next step. This could be scheduling a meeting, reading more about a piece from your portfolio, signing up for your newsletter, or anything else that will help drive engagement with your audience. Typically, CTAs are something generic like Buy Now or Learn More. Those are descriptive, but overall they are just average. There is so much room here to have fun, and too few of us take advantage. Just by switching to something more casual like Sign Me Up or Teach Me could go a long way.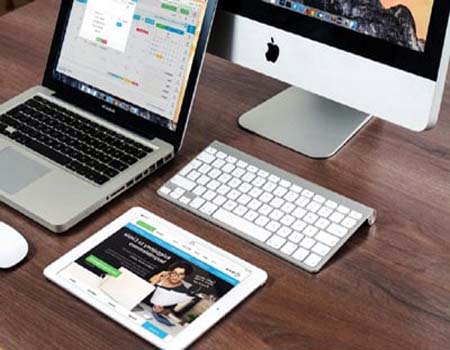 Improve SEO
Search engines are very important for attracting new visitors to your website, but only if you are able to rank highly in search results. To have the best chances possible, you will have to do some search engine optimization (SEO). There are books, blogs and entire courses dedicated to SEO. It is beyond the scope of one section of a blog post. But one basic SEO improvement you can make is to look at each page on your site and decide what the target keyword(s) of each page are. This is what you think most people will type into Google that your page provides an answer to.
If your site is built with WordPress, there are many SEO plugins that are very helpful for optimizing your website.
We have also devoted a whole section just to SEO
Add ALT Tags to Images
Another boost you can give your website is adding ALT tags to your images. This is the text that will show up if for whatever reason a visitor is unable to load your images. There are two benefits to this: Your visitors won't miss out on important information if they are unable to load an image. You will give Google additional content to crawl and increase your odds of ranking higher in search results. This is particularly good for Google Image results, where your awesome imagery will have another platform to be discovered on.
Replace Low-Resolution Images
Low-resolution imagery is something any website should avoid, but this is especially true for designing type websites. Take a look at your site on different devices and screen sizes; if any of your imagery doesn't appear crisp and high-res, swap it out for something new.
Change your Color Scheme
Much like your home, a fresh coat of paint can breathe new life into your website. Switch up your Website's color scheme to give both you and your visitors a new way to look at your site. Who knows, seeing your site in a new light may even give you inspiration for other ways to make improvements as well.
Catch Your 404s
While search engines do not punish you severely for soft 404 errors (page not found), a user will! When a user approaches a link or an image, they are expecting this link will take them to the next place they want to go. Encountering a 404 will make your user annoyed and have them re-think spending their time on your website (when they probably could go elsewhere for a faster solution). Next to slow page loading time, running into 404s another highly frustrating event for a user, and it completely disrupts their journey throughout your website.
We welcome your comments, questions, corrections and additional information relating to this article. Please be aware that off-topic comments will be deleted.
If you need specific help with your account, feel free to
contact us
anytime
Thank you
---
Tweet Share Pin Email