Do you know what kind of traffic your website is attracting? Or how long people stay on a page? Google Analytics can help you measure all kinds of visitor interactions. Some you might find quite surprising. Knowing this information can be integral to the growth and success of your business. But where do you look for it?
This guide will show you how to use Analytics to find the most integral information about your business in a simple, easy-to-understand way.
Setting Up Google Analytics
Start off by making sure your site is connected to Google Analytics
There are several ways to have Google Analytics working on your site. It depends on your Website's set-up, and Google has a fairly comprehensive guide on how to do this. There are also many videos that break it down for you if you prefer those.
Acquisition and Behavior
Probably the most important information can be found under Acquisition. This shows where your traffic came from and the "behavior" (what the traffic did when it arrived).
Acquisition
After signing in, click on the Acquisition tab. Then click "All Traffic", then "Channels".
This can show you how many people land on your site.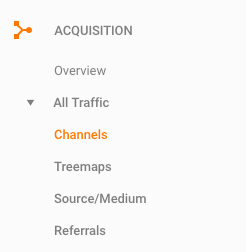 You may find the "Acquisition Overview" section useful. But "All Traffic - Channels" shows everything more clearly. This will bring up a graph showing a day-by-day breakdown of total site traffic. The graph is the simplest, most visual way to get a sense of the direction your site is going in. It is useful to adjust the date range. To do this, click the drop-down box at the top right of your graph.
Altering the Graph's Date Range
Bear in mind that, like in brick-and-mortar businesses, your site activity will fluctuate based on day/time of year, so setting a longer date range than Google's default is a good idea. A month or two works best. It's also worth noting that Google measures a session slightly differently to other analytics tools you may be using on your site, so be prepared for their numbers to be slightly different from others you may have seen. Google tends to be a stricter measurement tool, only counting the true sessions as opposed to "hits". Google's method makes the data more indicative of your site's actual visitors.
Where does the Traffic come from
This will reveal whether your marketing and backlinks are working. Some of your traffic should be from sites that you know for sure contain links to your site. You'll find this data under "All Traffic - Referral"
Under the graph you will see a table of numbers like this.

"Referrals" refers to site visitors who have arrived from another site. This could be traffic from a backlink or a social media post. Direct traffic is those visitors who typed your address directly into their browser. Organic search refers to those who came via a search engine such as Google.
The columns to the right of "sessions" are fairly self-explanatory, but if you need to know more, hover over the little "?" icon next to the bold text. Of these other metrics, "Bounce Rate" is probably the most important, as it gives you a sense of how many people leave your site immediately without any further interaction. We all do this when we inevitably fall for "clickbait" or realize we clicked the wrong link. So, in this case, the lower your percentage is, the better your site is engaging the audience.
Clicking the "Referral" hyper-link will show you a list of your referring sites, and "Direct" will show you where your direct traffic landed. Since direct traffic consists of people typing in your website address manually, it is most likely to be your site homepage. For this, you will just see "/".
Secondary Dimension Tool
While a slightly more advanced tool, I've included it here since it is a great way to save time learning other elements of Analytics. The Secondary Dimension tool is one of the most useful ways to quickly compare information. It allows you to offset stats against each other in order to draw new conclusions. Clicking this tool essentially brings up a reduced version of the main menu, and allows you to select other data to appear in a new column.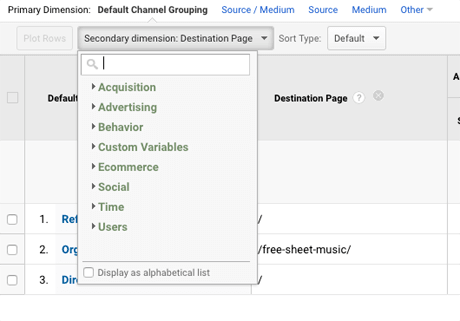 Adding a Secondary Dimension
For example, in the screenshot above, I have added "Destination page" (from under "Behavior", see below), and it places this data in a new column. This tool saves scrolling through each part of the analytics individually and enables you to quickly pair your most important data.
Behavior
Behavior, in its most basic form, is incredibly useful. It shows how the customer actually interacts with, and journeys through, your site.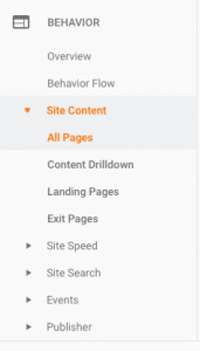 What pages are being viewed?
This breaks down which pages are popular, how long was spent on them, and can even go on to track where people clicked on the page if you set up events.
How to find behavior information
Click "BEHAVIOR" > "Site Content" > "All Pages", and you will see your version of the screenshot below.

This is another instance when the "Secondary Dimension" can be useful. You can click "Secondary Dimension" > "Acquisition" > "Source/Medium" to see how people navigated to these pages.
The path your visitors took
The bounce rates and exit rates displayed here are specific to each page that's been viewed. It may not include every page on your site, as some of your pages probably aren't getting any traffic.
Landing Pages and Exit Pages
Self-explanatory. These are the pages on which people arrive and exit your site. It can be enlightening to see what pages people land on, as it goes some way to explaining which of your pages are indexed by search engines or linked to from other websites (for whatever reason). Likewise with exit pages. Is there one particular page where you lose your customers time and time again?
You can see these stats by clicking the respective tabs (shown in the "Behavior" menu), or, more usefully, you can see these in context by clicking the "Behavior Flow" button.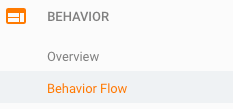 Finding Behavior Flow in the menu
This shows you each customer journey as a flow diagram, a simple, and visual way to view this information.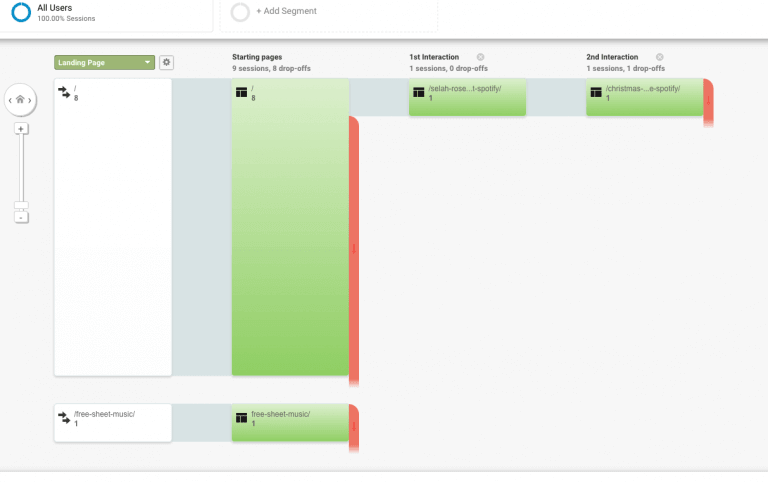 This screenshot shows each of your pages that was a landing page as a white square (far left), and then the subsequently viewed pages in green. You'll notice the number drop off as people close the session window. My longest journey is four pages (not great) how long is yours?
Audience
If you've been looking at your Google panel alongside this article, you may have noticed we missed out the button second from the top, "Audience"
This was deliberate. You can get about as specific as you want when it comes to your audience using Analytics, but bear in mind that demographics, genders and other specifics are only generalizations. For example, it could be someone else using the computer, not the person logged in to the Google account.
Crucially, Audience is a metric that only really comes into its own when you're
Achieving high enough numbers for it to be an accurate representation if you are carrying out a targeted advertising campaign.
Events
Events are one of the most useful things if your main objective is to drive traffic off your site (although there are myriad other uses for them too). Perhaps you are using your website to promote a Facebook page, a product listed on an external site, or something like a song on Spotify. You don't have access to the analytics data of the destination site, but you want to know how many times people click the button you've placed to send them there. Using Tag Manager, you can create an event that "fires" every time someone clicks a button. You will need to sign up for Google Tags.
You will need to sign up for Google Tags
This video will give you an overview of Google Tag Manager.
.
Conversion Goals
Conversion goals are ultimately the most useful way of implementing Google Analytics. They tell you when a site visitor meets your criteria of "converting", going from a casual browser of your website to making a commitment. For example, a conversion could be signing up on a mailing list or purchasing a product. If set up correctly, conversion goals can tell you almost anything about how your customer transacted. While fairly intuitive to understand once they're set up in Google Analytics, adding them can be rather complex.
To learn more about how to enable conversion goals
This guide is fairly comprehensive.
We welcome your comments, questions, corrections and additional information relating to this article. Please be aware that off-topic comments will be deleted.
If you need specific help with your account, feel free to
contact us
anytime
Thank you
---
COMMENTS