If there is one thing that we know for sure, it is that website design trends are constantly changing. As soon as you launch a new feature, it is time to start research on what direction to go next. While it can feel like an endless battle of time and resources, keeping up with current website design trends is a vital part of doing business. In this article, we will take a look at the top ten web design trends.
Oversized Elements and Typography
More websites are using oversized elements in their design in order to communicate clearly and directly. This can include anything from full screen videos and images to huge menu icons or ultra bold typography. Oversized elements like these help catch a user's eye and alert them to what the site is about immediately. They also look very inviting on screen. When using oversized elements, it is important to have a limited number of them on each page. This keeps you from overpowering the user with too much bold information.
Splitting Screen Content
This is a great way to convey more than one idea without cluttering up a page. In your design, split the screen directly down the middle. Allow each side of the screen to convey its own unique idea. This design idea is a trend that has broken a lot of past trends in recent months. To make the design even more interesting, consider making each side of the page behave differently. Use unexpected asymmetry techniques with scroll effects and making each side move at its own pace.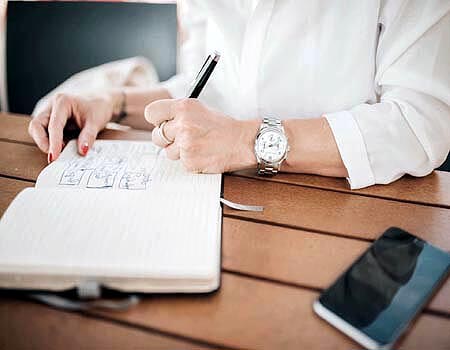 Block Colors
Many of the newer websites have begun breaking up content into square or rectangular shaped content areas separated by block colors. The design is intended to express multiple messages at the same time in a highly cohesive way. By displaying a photo and a couple of short informational lines within each blocked section, site users are able to quickly digest the available information and navigate appropriately.
Lots of Whitespace
Whitespace, sometimes called negative space, refers to areas left blank between elements of design. It helps to give web pages a more balanced, spacious feel. The vast majority of the time, whitespace is, in fact, the color white. However, in rare situations, it can be effective to use another background color as whitespace. Do not think of whitespace as wasted space. In fact, it is a design element in and of itself. Expect to see more cleanly and well-designed websites that know how to use whitespace to add to a design.
Exposed Windows and Grids
Web design trends today are being inspired by the technology that builds it. An important component of layout design are grids. Grids, at its basic role, is nothing more than a series of intersecting horizontal and vertical lines spaced at regular intervals. But its innate propensity for creating order out of chaos, makes it one of the most powerful tools at a designer's disposal. Grids help our designs remain logical and consistent across different platforms and devices. Layout grids are not dependent on a specific resolution or dimensions.
Bright 3D Digital Art
Digital 3D images are adorning more sites with neon, luminous color shades. Digital art like this works best when it is contrasted against a clean, minimal background design. Using bright digital art is not a new idea in general design. But it is becoming more popular with websites. This is probably because 3D modeling software is more accessible than it has ever been. The design movement looks very energetic and futuristic. It is definitely an idea you want to consider
Also, by using commonly recognized icons from apps and operating systems, a website expresses a feel that is contemporary and a little tongue in cheek. Grids are being added to blogs that help readers skim information faster. Shapes that are similar to browser windows or pop-ups are becoming seamless parts of web pages. Some look quite nuanced, carefully hinting that a familiar form is present. Others are more explicit, referencing images that are reminiscent of old-school computers.
Layers That Overlap
When you are looking to add depth to a 2D screen, laying elements is a great design strategy. It gives the illusion that there is more to your website than what the four screen corners contain. When done the right way, the overall composition will appear very orderly and easy to take in. This normally requires the use of plenty of whitespace.
Interactive and Full of Motion
Animation and video are certainly not newcomers to web design. We are seeing more micro-animations that provide instant feedback when a user hovers their mouse over the top. We are also seeing a new trend in typography, where it works to run it across the entire screen in strategic areas. Full-screen animations and video headers are also very trendy.
Full-screen Forms
A full screen form makes it easier for a customer to fill out because every required field is easily visible. This leads to fewer abandoned forms and a higher response rate. You can also consider implementing micro interactions that respond to the actions of a user in real time as they fill out a form.
Custom Illustrations
Using custom illustrations has been big with web designing. Illustration can turn an average website into something unique. Being a powerful and creative medium which can identify and communicate the brand message and transmit ideas universally, through the use of just one image. The perfect placement of an illustration on your site can send the perfect message to your users. For example, if your website is for a skate shop, fill it with graphics that are inspired by the street. If you run a non-profit charity, use illustrations that promote a sense of optimism and well-being.
Today's Biggest Web Design Trends
Now that you know what the major designing trends are, it is time to start implementing them on your Website. Just a few changes that fit with today's current trends can make all the difference in the world.
We welcome your comments, questions, corrections and additional information relating to this article. Please be aware that off-topic comments will be deleted.
If you need specific help with your account, feel free to
contact us
anytime
Thank you
COMMENTS
Bob R
Really this is very much informative post. This will greatly help.
---
Thomas P
This is good post for the small business website.
---
Tweet Share Pin Email.