Joomla
One of the most popular, innovative Content Management Systems that helps Designers of all levels manage any size Website, even with little or no experience.
Joomla is powered by more than 7000 free and commercial extensions (add-ons) that are available in the Joomla Extensions Directory. Extensions allow users to extend Joomla functionality and customize it to their purposes. It has been downloaded more than 80 million times and holds a unique place in the Open Source community. It is also one of the most widely translated CMS's with 64 languages supported.
What is Joomla
Joomla is an open source CMS that allows you to build any type of Website or online applications. This award-winning website software contains very easy to use features, and it is freely available to everyone.
Joomla is written in PHP for managing content and uses a MySQL database to store that content. Joomla is released under the GNU General Public License. Joomla includes features such as Page Caching, RSS Feeds, Blogs, Search, and support for Multilingual Website.
How Does Joomla Work?
Joomla is built on a Model View Controller Web Application Framework (MVC) design architecture that can be used independently of the CMS. According to the MVC pattern, when Joomla process a request, it will first analyze the URL to evaluate which component will process the request. This model contains the needed data used by the component. It is also the Model's responsibility to update the database when required. The "View" is responsible for producing the output. It will also contact with the model to get the needed information. After the view has produced the output, the component gives back the control to the Joomla framework, which then executes the template.
The multi-user and multienvironment that Joomla offers, allows several users to interact and contribute towards the development of any Joomla based Website. The users can be allocated to different groups, each of which has different privileges. And with the "What You See Is What You Get" or WYSIWYG editor facilitates online editing of Content.
Joomla is a complete CMS which is easy to learn, easy to set up and is 100% free to use. The whole Joomla platform is open for you to use, and modify in any way you like. And with the third party Development Community with the thousands of Plugins, Extensions and Templates. This greatly simplifies using Joomla. The components give you the possibility to manage professional slide shows, gallery extensions, create modern menu systems and so much more.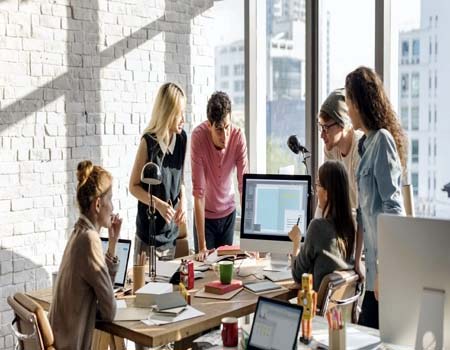 Joomla Features:
· 100% free
· Easy to install
· Expanded content management
· Expanded user management
· Web-link management
· Contact forms
· Text editors like JCE
· Large community support
· Bootstrap 4 Integration
· More friendly Back-end UI
· Coding improvements
· New front-end template and back-end template
· New Media manager
· Simplified installation process
· Faster page loading times
· Features to improve SEO
· Language manager for translating your website into another language
· Large Template Management System
Joomla Templates
With Joomla, you can Create and Manage Templates. This acts as the basic styling and layout for the entire Website. If you are also looking to creating a large dynamic website with multiple pages and or articles, Joomla is great a great solution for this.
Joomla's templates are a series of HTML, PHP, XML and image files that serve as basic foundation design within the Joomla CMS. Joomla template for absolute creative control over the presentation of the content and the overall appearance of the website. When your content is inserted into a Joomla template, it inherits everything from menus, link styles, colors, navigation and text size of the template.
Using Joomla templates, web designers as well as end-users can easily and effortlessly manage and maintain dynamic websites regardless of their level of proficiency or knowledge of the code.
Joomla's Extensions Directory (JED)
Joomla's extensions directory is a place where you can find numerous extensions to enhance functionality of your website. These are 100% Joomla verified extensions and plugins. You can check all the extensions at extensions.joomla.org. Some extensions are free and some are paid. You can choose as per your needs. Use the Joomla extensions to boost your Website.
Joomla Extensions
The top-rated Joomla extensions used by web developers. These extensions can significantly improve any Joomla website. They can enhance the front end and improve the experience of your site visitors. They can enhance your administrator panel and help you administer your site more efficiently. It is hard to imagine a website without Joomla extensions.
Joomla Examples
Some example of websites that uses Joomla to run their Websites:
Joomla Resources Tutorials, Codes, Videos, Cheat Sheets, Complete Guide
RSH Web's Joomla Hosting Plans
We welcome your comments, questions, corrections and additional information relating to this article. Please be aware that off-topic comments will be deleted.
If you need specific help with your account, feel free to
contact us
anytime
Thank you
Tweet Share Pin Email