Tiny Web Gallery
Configured for a professional gallery
But also for the pictures from your last holiday
20X Faster SSD Website Hosting packages

TinyWebGallery WebSite Hosting
The TinyWebGallery is a free php photo gallery / album that is very easy to install, extremely user friendly, does not need a database (uses xml files) but still has all the features you should expect and much more. Besides the features you find in another php photo gallery TWG has. TinyWebGallery can be configured very fast for a professional php photo gallery like a model agency but also for the pictures from the last ski holiday! Just check out the demos and the list of all functions. Maybe TinyWebGallery is the php photo gallery you where looking for so long!
---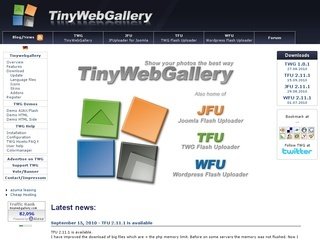 Features
AJAX + Flash navigation with sliding image thumbnails
XML based - no database needed
TWG Admin to upload/manage images, manage users, Color Manager
Keyboard navigation
3 different slide show types
Protected galleries
Full screen mode
Text and image watermarks
Full video support
TWG Flash up-loader
Front-end in 26, back end in 5 languages
Remote picture support
The TinyWebGallery Hosting Solution
Our TinyWebGallery hosting packages are fine tuned, reliable, incredibly fast and are ready for you
Pro Personal
5 Email Accounts
5 Sub Domains
1 Website
Lock in this price now
$ 4.97
/mo
For Life!
No long term contract
Most Popular
Pro Business
25 Email Accounts
Unlimited Sub Domains
5 Websites
Lock in this price now
$ 7.97
/mo
For Life!
No long term contract
Pro Ultimate
Unlimited Email Accounts
Unlimited Sub Domains
10 Websites
Lock in this price now
$ 12.97
/mo
For Life!
No long term contract
---
Tiny Web Gallery
Setting up your TinyWebGallery website with "One Click" Softaculous Installation though your cPanel. The fastest way to set up your TinyWebGallery website! You will automatically get an email notifying you when a new TinyWebGallery version is available. Log into your cPanel and update your installation with a single click so you always have the latest and the most secure version
Making your TinyWebGallery website faster and safer with the hottest speed technologies and proactive security practices. SSD drives - For faster website speed we use Solid State Drives on all our TinyWebGallery hosting plans. Latest speed technologies: Enhanced performance with NGINX, HTTP/2, PHP7 and free CDN. Free SSL Certificate - Providing Free SSL (HTTPS) certificates with each TinyWebGallery account. User apps auto-updates: Over 3 million CMS and Softaculous updates every year. Firewall security rules: 900+ WAF rules to fix zero day vulnerabilities
Frequently Asked Questions (FAQ's)
Can you host foreign domain names?
Yes, we can host or house any foreign extensions. We do not do the registration of foreign domain names but can provide the name servers so you can register them yourselves
How does Web Hosting work?
After you sign up for a website package, RSH Web stores your site or web pages on one of our Web Servers and "points" your Domain Name to that space. Your Domain Name is the address that allows people to find and view your website. By purchasing a hosting package you are basically renting space on one of our Web Servers which allows your website to be seen and accessed from anywhere
How long does it take before my domain name is active?
In some instances it is immediate. But it usually takes about 12-24 hours before it is active. Note: All ISP's must update their records (DNS tables) to reflect the new Domain Name
What can I use to create my Website?
You can create a website in a variety of ways depending on your level of skills. From hand coding to using a website builder app such as WordPress. Let RSH Web Services design and build a website for you. Our Website plans give you access to programs that can be used to build and customize your website such as Content Management System (CMS) applications
Tweet Share Pin Tumble Email
45 Day Unconditional Guarantee On all TinyWebGallery Hosting Packages No questions asked