WordPress
A content management system (CMS). Allowing you to build websites and blogs where the content and the design are independent. Providing you with incredible flexibility
You can choose from thousands of pre-made free or paid themes. These can be found through the WordPress.org theme repository Or you can access themes right through the WordPress Dashboard, or from a wide range of premium theme design companies
You can also add more functionality than what comes with the "Default Vanilla" WordPress theme.
You can add plugins that will add power to your website. Plugins for automatic backups, plugins for additional security, plugins to change how social media and images are handled and so on
There are thousands of plugins to choose from, and many are free. And again many are available through the WordPress.org plugin repository or in your Dashboard.
Installing WordPress
You can install WordPress on your own WordPress Website hosting account through one of the following options:
Downloaded a free WordPress software and installed it on your Web Hosting account following the instructions at WordPress.org
Installed WordPress via Softaculous through your cPanel with a few clicks of your mouse
Asked RSH Web Services to install WordPress on your website. Which we would be glad to do with no extra charge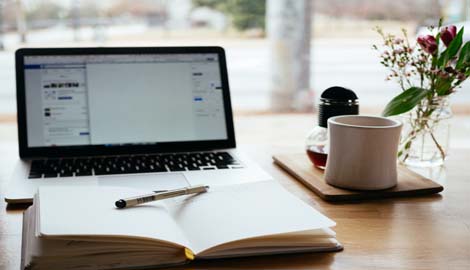 The WordPress Dashboard
When you open the WordPress Dashboard for the first time you might be overwhelmed
Do not worry, once you start to look around it will start to become very familiar to you
You can reach your Dashboard by going to https://YourDomain.com/wp-admin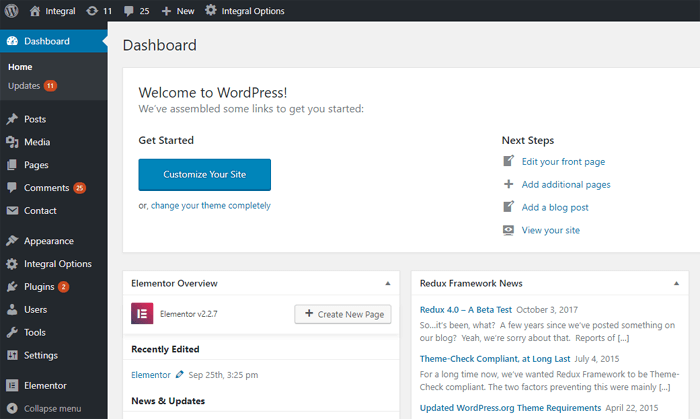 Site Name
In the top left corner, you will see the name of the site
Gravatar
In the top right you'll see your username and Gravatar image if any
If you do not already have one, you should Create a Gravatar Account, this will allow you to have an avatar or photo associated with all of your blog posts both on this website and any other WoedPress websites you build or contribute content or comments
Posts, Media, Pages, and Comments
These are the first options in the left column. You'll use these to create and manage your content
This is the section where you create and manage the content for your site. Posts and Pages are your "text" content while media is for images and other files. Comments, of course, are the comments people can leave on your blog posts.
You can click on "All Posts" or "All Pages" to see existing content, or "Add New" to start a new one.
But wait! When you create a new post or page you'll see very similar editing windows. So why are there two?
The distinction between Posts and Pages usually confuses people new to WordPress. Here's the difference:

Posts are dated content (think blog posts) with author information and can be displayed in reverse chronological order on a blog within your overall site. You can also use them for press releases, product updates, or anything that should have a date attached (or you can choose to hide the dates if you wish). Posts also allow you to set categories and tags.
Pages are your 'static' content pages. These are your home page, your "About Me" page, your "Contact" page, and anything else you might want to put in your main navigation menu (you can also have pages that aren't in your menu, but they work the same either way). Unlike posts, pages generally do not have a date or author attached to them.
Media, Feedback, and Comments
Media This is where you will find your media library such as photos, graphics, PDFs, sound, and videos. After you add to your Media Library you can then drop any of that content into a post or page
Comments Where you can find all the pending and published comments. You will see a bubble to let you know when there's a new comment to approve. You can approve comments as is or edit them
Feedback is where your "Contact" form content (if any) will reside
Appearance, Plugins, Users, Tools, and Settings
This is the second set of options in the left column, you will use them to manage your websites appearance and functionality
Appearance
Your Appearance tab has a number of options
Themes Choose from one of the many free options at WordPress.org, or upload one you purchased elsewhere in a .zip format
The Customize feature provides a separate menu. You can to change some of the settings within your designated theme as well as set a logo and background color or pattern. The options here will vary considerably between themes, and will reset if you activate a different theme, so be forewarned
Widgets are bits of content you can drop into a blog sidebar or add to your page's header or footer.
Menus will give you the ability to choose which pages to display in your main navigation menu, put them in your preferred order, and even create drop-down sub menus
Header Customizing, but only for your header information. Some versions of WordPress will include Header within Customize
Editor The one place you can really mess things up
Proceed With Caution. This is where you can modify the CSS (Cascading Style Sheets) for your theme
Plugins
This section will allow you to manage and or upload your WordPress plug-ins From the WordPress.org repository or ones that you upload separately
Some of our Blogs about plugins
Users, Tools, and Settings
Here you will find settings for some of your basic website functionality
The Users option allows you to create additional user roles for your website
Tools gives you the option to import or export all of the content of your website. Your posts, pages, media, and comments. This is handy if you are moving your website. (It doesn't allow you to migrate your theme or plugins, however.)
Settings Thi is where you can set the time zone, change display options, set your homepage name, and more. Your theme and plugins may add more settings here, and your hosting provider may also include additional tools
For a more complete look at the WordPress Admin Dashboard, check out First Steps with WordPress from our friends at WordPress.org
You can also check out the WordPress Codex, which covers every topic you could ever think of. In particular, the page on Administration Screens will offer more details on the items addressed in this article
Bundling hosting, domains, SSL into our WordPress hosting packages
---
Tweet Share Pin Tumble Email