Creating Users in WordPress
This allows Users to have different roles and different access privileges to your website. Once created, a user will be able to log in to your website with their unique Username and Password.
WordPress user roles include Super Site Administrator, AdministratorEditor, Author, Contributor and Subscriber. These user roles control the level of site management granted to a user, including the ability to write, edit or publish content on your site. User's with lower access roles will see fewer options in the WordPress Dashboard when they are logged in.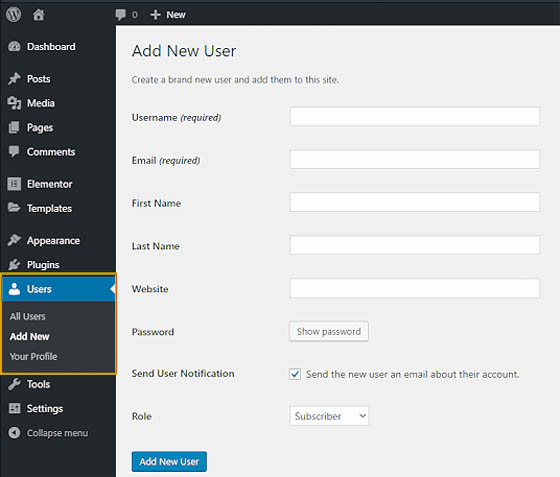 To Create Users in WordPress
To add a new user to your WordPress site, log in and click to expand the "User's" menu
1) Click the Add New link located in the User's menu
2) Enter the username, email address, first name, last name, website, and password
3) If this user is brand new, it's a good idea to select to send this password to the new user by email
4) Select the subscriber role for the user. Be careful of the roles you give Users. If you give a user an administrator role, you are granting them full access. This means that they will be able to delete pages, posts, plugins, themes, etc….
To see a basic overview of WordPress user roles, click the Help tab at the top of the screen. Here you'll see details for how user roles relate to site privileges, so you will be able to decide which level of access to grant to your new user.
WordPress Default User Roles
Or Multisite Super Admins. They have all capabilities, to all your sites. In the case of single site WordPress installation, Administrators are, in effect, Super Admins. As such, they are the only ones to have access to additional admin capabilities.
An administrator can perform all tasks on your site. It is highly recommended that you do not assign this role to any user unless you have complete trust in them.
Users with the Editor user role, can add, edit, publish, delete their own posts as well as posts by all other users as well. They cannot access website settings, plugins, themes, etc.
If you only want a user to add posts, and edit only their own posts, then you can use the Contributor user role. Users with the contributor user role can write posts, but cannot publish them. They cannot edit other user's posts and cannot access other admin screens like plugins, themes, settings, tools, etc.
To allow someone to not just add posts but also publish them, then the WordPress Author user role is perfect for that situation. These Users can add, edit, and publish their own posts.
A Subscriber can maintain their own profile on your website and cannot write posts. It is normally used on websites where users are required to sign in to submit comments or download content.
WordPress User Plugins
Import and export users and customers using CSV files including custom user meta and roles. Integrations with lots of other plugins
WordPress membership and user role editor plugin. User Roles & Capabilities editor helps you restrict content in just a few clicks.
User Profile, Registration, Login, Member Directory, Content Restriction & Membership Plugin
User Role Editor WordPress plugin makes user roles and capabilities changing easy. Edit/add/delete WordPress user roles and capabilities.
Send Users Email provides a way to send email to all system users either by selecting individual users or user roles.
Powerful user profile plugin for creating front-end login, user registration and edit profile forms. Includes content restriction and user role editor
New User Approve allows a site administrator to approve a user before they are able to login to the site.
Instant switching between user accounts in WordPress.
Tweet Share Pin Email