Creating a WordPress Post
Posts are generally news or informational updates about a certain topic. Posts are listed in reverse chronological order and can be tagged, categorized and archived. WordPress Posts usually have comment fields beneath them and are included in your site's RSS feed.
Locate the "Posts" menu on the left side of the WordPress Dashboard. You can either hover or click to expand it to reveal the submenu.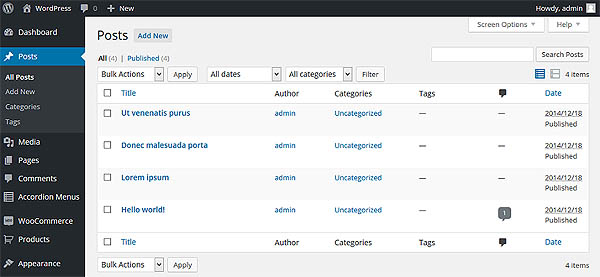 Add New links, Click the Add New Link and you will see the Add New Post page where you can create your first post.
The first box is where you'll want to enter the title of your post. Next is the Post formatting section or post editor. This is where you will actually type the content of your post.
If you look on the right side of the box, you will see two tabs. There are two modes of editing posts: Visual and Text.
The Visual tab will bring up the visual WYSIWYG editor. WYSIWYG means "What You See Is What You Get"
Here you will see a formatting ToolBar with lots of options for formatting your posts. If you are familiar with Microsoft Word or any other word processing software, most of these icons should look familiar.
Click the Text tab, this will reveal a plain text HTML version of the post editor. This version of the post editor is for editing the HTML code of your post. For most of us, the Visual editor is the easiest way to write posts.
At the top of the right column on this screen, you will see the Publish box. Here, you can save your post as a draft if you'd like to save it for later. If you click the Preview button, you can get a preview of how the post will look once it is published.
The Status of the post will show if the post has been published, saved as a draft, if it's pending review or if it's been scheduled.
The next two links show the visibility of the post. Or what visitors will be able to see with your post. The Publish line shows whether the post will be published immediately or at a later date.
The next section are for categories and tags assigned to your WordPress post. We will cover these two topics in more detail later.
If you would like to change the screen options for your post editor, just click the screen options tab in the upper right hand corner. Expand this to reveal all the options that can be displayed on the post editor screen.
Again, from the post editor, you can also drag or drop the order of these boxes to customize how we want them arranged on the page.
And remember if you ever need help, just click the Help tab in the upper right corner. From here, you will be able to get a reminder for how to customize your post display, tips for adding a post title and using the post editor, inserting media and settings for publishing and discussion.
Popular Post Plugins for WordPress
Custom Post Type UI provides an easy to use interface for registering and managing custom post types and taxonomies for your website.
WordPress Popular Posts is a highly customizable widget that displays your most popular posts.
List Category Posts allows you to list posts by category in a post or page using the [catlist] shortcode. When you're editing a page or post, directly insert the shortcode in your text and the posts will be listed there.
The PublishPress Future plugin allows you to make automatic changes to posts. pages and other content types. On a date you choose, PublishPree Future can delete your post, change the status, or update the post categories, or make other changes.
Yet Another Related Posts Plugin (YARPP) is a professionally maintained, highly customizable, performant and feature rich plugin that displays pages, posts, and custom post types related to the current entry.
User Submitted Posts (USP) provides a front-end form that enables visitors to submit posts and upload images. Just add the following shortcode to any Post, Page, or Widget: [user-submitted-posts]
Related Posts by WPBrigade will add related posts thumbnails after the post. This Related Posts Plugin allows to customize thumbnail sizes, display settings and type of relation.
Related Posts for WordPress offers you the ability to link related posts to each other with just 1 click!
Further reading on Writing Posts
Tweet Share Pin Email It.