WordPress Widgets
WordPress Widgets add additional content and features to your WordPress website's sidebars. Examples are the default widgets that come with WordPress. Like those for archives, post categories, search bars and custom menus.
One of the great things about WordPress widgets is that they require no code experience or expertise. They can simply be added, removed and rearranged.
The actual location of widgets on your site depends on your WordPress theme. Most WordPress Themes offer different page templates that decide where widget locations are in the page design.
In addition to the default WordPress widgets, WordPress plugins often add their own widgets as well. Some may add additional options for customization features.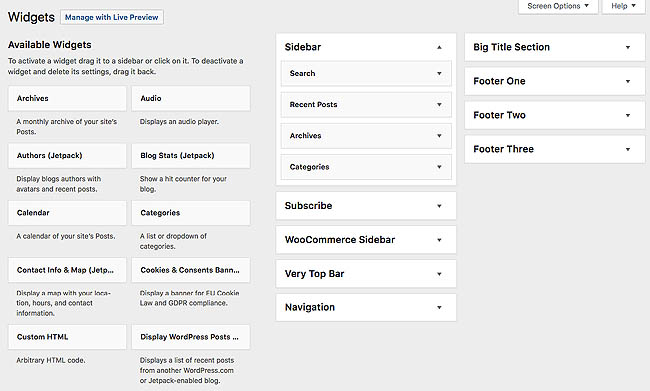 To see how widgets work, log in to your WordPress site and go to the "Appearance" > "Widgets" panel. On the left side of the page, you will see all available widgets. Default widgets will be visible here, plus any additional widgets that have been added by your installed plugins. On the right, you will see all of your widget available widget locations.
Installing WordPress Widgets
WordPress comes pre-packaged with a variety of Widgets. If those widgets do not cover your needs, you can install new ones by searching the WordPress Plugin Directory which is accessible from the WordPress Administration "Plugins" > "Add New" screen.
To add a widget to a location, simply drag the widget from its place on the left into the right section to activate them. To remove them, simply drag the widget back or click delete.
For your current active theme, there are several widget locations. Example might be you want to add a search bar. Just drag the search widget over. Now, if you return to your site, you will see that a search bar has been added to the sidebar.
If you ever have questions or need help using widgets, just click the help tab from the top of the screen. Here you will find an overview, information on removing and reusing widgets and how to handle missing widgets if you change your WordPress theme.
For more info on WordPress Widgets
WordPress Widget Plugins
Enables the previous "classic" widgets settings screens in Appearance, Widgets and the Customizer. Disables the block editor from managing widgets.
Widget Options lets you add more options to widget settings so you can take full control of your website's widgets. By Widget Options Team
The SiteOrigin Widgets Bundle gives you all the elements you need to build modern, responsive, and engaging website pages. By SiteOrigin
The easiest and highest rated way to Add Widgets or Sidebars to Posts and Pages using Visual editor, shortcodes or template tags. By Todd Halfpenny
Activate this plugin to restore and enable the previous classic widgets settings screens. No expiration date. By Bill Minozzi
WhatsApp chat, Facebook Messenger, Telegram, TikTok, Viber, Email, Line, WeChat Phone call, SMS, and more with customizable WhatsApp chat widget. By Premio
Essential Widgets is a WordPress plugin for widgets that allows you to create and add amazing widgets with high customization option on your website. By Catch Plugins
Provides a suite of sweet widgets for your WP Dashboard. By Jeff Starr
Tweet Share Pin Email