What is a WordPress Theme?
A WordPress theme is a collection of files to produce a graphical interface which provides all of the front end styling of your WordPress Website. These files are called template files. A Theme modifies the way the site is displayed, without modifying the underlying WordPress software. Themes take the content and data stored by WordPress and display it in the browser. When you create a WordPress theme, you decide how that content looks and is displayed. In addition to the default theme included with your WordPress installation, you can also install your own WordPress theme to change the look and style of your site.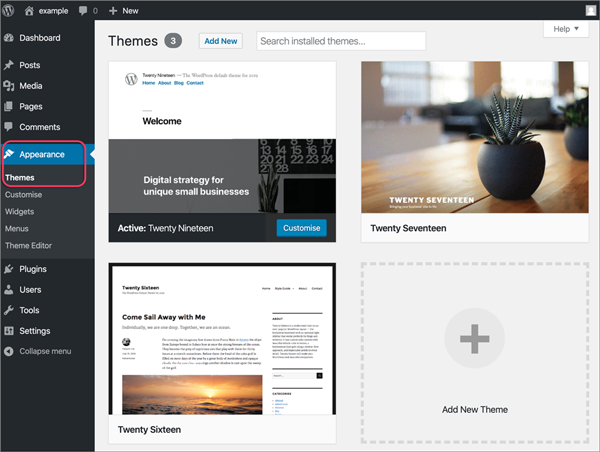 WordPress Themes provide
• The overall design or style of your site
• Different page layouts, such as static or responsive, using one column or two
• Can display content anywhere you want it to be displayed
• Font styling
• Can specify which devices or actions make your content visible
• Over all colors
• Widget locations
• Customize its typography and design elements using CSS
• Other design elements like image and videos can be included anywhere in your theme
• Styles for blog posts and blog archives
• Additional stylistic details.
WordPress themes can be incredibly powerful. But as with every design project, a theme is more than color and layout. Good themes improve engagement with your web-site's content in addition to being beautiful.
WordPress Themes vs Templates
The terms WordPress Theme and WordPress Template can be confusing for beginners. Template files are part of a WordPress theme, along with other types of files like stylesheets, scripts, and images. You can't install template files individually. They work together with the rest of the files in a WordPress theme to change your website design. When you are building your theme, you will use template files to affect the layout and design of different parts of your website. For example, you would use a header template or template part to create a header.
Free or Paid WordPress Themes
Just like WordPress plugins there are thousands of free WordPress themes in the WordPress.org Theme Directory.
Many WordPress Websites use custom or paid themes.
Premium themes usually have a reliable code base and offer support if something goes wrong.
Some premium themes, operate more like a website designing software, allowing you to design and build your own multiple theme designs and page layouts.
For a very nice selection see Template Monsters Premium Website Templates and Themes.
WordPress Theme Detector
Want to check which WordPress theme a website is using? Use this free WordPress theme detector tool
Popular Plugins for WordPress
The ultimate login branding solution! Theme My Login offers matchless customization of your WordPress user experience. By Theme My Login
The plugin is development only - not intended for use on production websites, but used as a tool to create new themes. By WordPress.org
Child Theme Configurator is a fast and easy to use utility that allows you to analyze any theme for common problems, create a child theme and customize it beyond the options of the Customizer. By Lilaea Media
Easy Theme and Plugin Upgrades fixes this limitation in WordPress by automatically upgrading the theme or plugin if it already exists. By Chris Jean
The theme check plugin is an easy way to test your theme and make sure it's up to spec with the latest theme review standards. By Theme Review Team
Automatically generate the code needed to implement Advanced Custom Fields in your themes. By Ben Pearson and Phil Kurth
Theme Editor allows you to edit theme files, create folder, upload files and remove any file and folder in themes and plugins. By mndpsingh287
The Child Theme Wizard lets you create a new child theme without the need for additional tools, right from within the WordPress admin interface. By Jay Versluis
Listing over 5,581 themes rated by most popular first
Tweet Share Pin Email