Adding Links in WordPress
A link is a word, group of words, or image that you can click on to go to a different URL, web page or a section within the current webpage. There are a couple of ways to add links to your posts or pages. You can use either the Visual editor or the HTML editor.
The WordPress post and page editor makes it easy to add hyperlinks to other web pages from your content.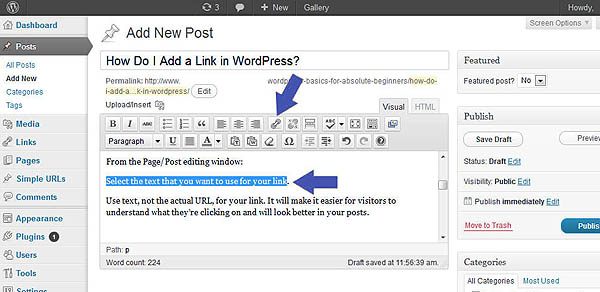 From the WordPress post or page editor, highlight the "text" that you want to be hyperlinked.
Once you have that text selected, click the "hyper-link: button in the WordPress ToolBar.
This will bring up a box where you can enter the URL of your hyperlink and a title to be displayed on hover. You can also click this check-box to open the link in a new tab.
If you'd rather link to existing content on your website, just click to expand this section. Now you'll see a search bar to search your site and a list of existing posts or pages. Clicking on one of the items in the list will change the hyperlink URL above.
Once you have your hyperlink URL ready to go, click the Add Link button. Now, your selected text will have a link.
To remove the link, select your text again and click the unlink button. Now you'll see that your link has been removed.
If you want to create a list of links to your favorite blogs or sites in your sidebar, please visit the Links Menu (Blogroll) support page.
If you would like to customize the links in your navigation menu, see the Custom Menus support page.
Further reading on Links Manager
The Default Permalink
The permalink is a static hyperlink referring to one of your blog posts that look something like
"https://www.this_is_your_site.com/2019/02/?p=325".
That type of link can hurt your Search Engine ranking. The link can be made much better both for user engagement and for the Search Engines. You will want to change it. You can change your permalink structure through Settings > Permalinks
For more on Changing Permalinks, see WordPress.org.
WordPress Permalinks Plugins.
• Permalink Manager Lite - 60,000+ active installations
• Custom Permalinks - 100,000+ active installations
• Longer Permalinks - 8,000+ active installations
• WP Better Permalinks - 1,000+ active installations
• Permalinks Customizer - 4,000+ active installations
• Automatically Update Permalinks - 1,000+ active installations
• Custom Post Type Permalinks - 100,000+ active installations
• Permalink Manager for WooCommerce - 40,000+ active installations.
Tweet Share Pin Tumble Email It.