Creating a Custom Menu in WordPress
With WordPress, you can create custom menus, which normally serves as a navigation menu for your website.
The built-in WordPress Menu feature allows you to create your own custom menus in place of your theme's default menus.
Custom menus in WordPress contain links to pages, categories, custom links or other content types. You can also specify a different navigation label for a menu item, as well as assign other attributes.
There is no limit on how many menus you can create, If your website includes more than one menu location, you can choose which custom menu to associate with each location. You can also use custom menus with Custom Menus widget.
How to Create a Custom Menu in WordPress
To get started creating a custom menu, log in to your WordPress website and click to expand the Appearance menu on the left side of the WordPress Dashboard.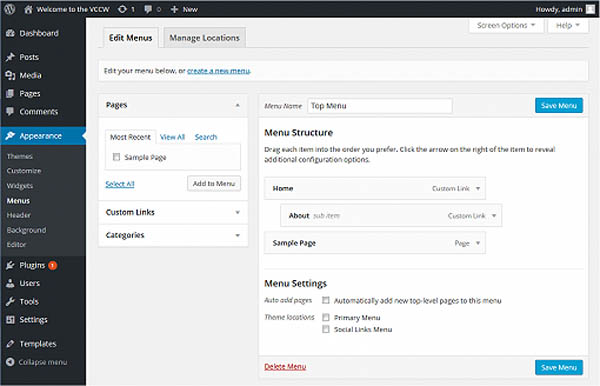 Click on the Menus link in the Appearance menu. You will now see the Menu's editor page.
Enter your menu name, and click Create menu.
You are ready to add "Menu Items" from the boxes on the left, such as posts, pages, categories, links..
If you would like to change which menu options you see from this page, click the "Screen Options" tab at the top to expand.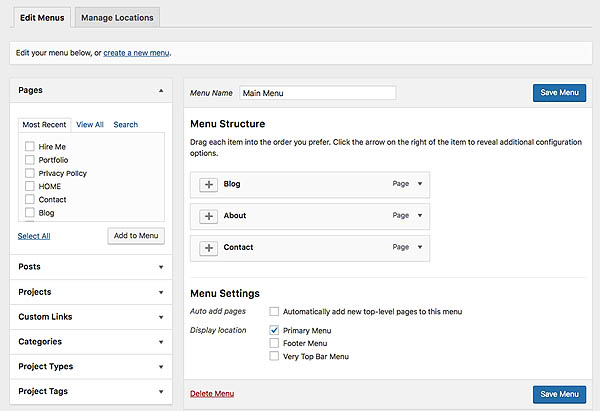 You can also add other menu items options such as tags or formats, or show advanced menu properties like CSS classes.
When you have your menu items arranged in order, click Save Menu. You now have a new navigation menu that can be added to any menu location on your WordPress website.
Creating A Social Links Menu
You can check if your theme has a location for a Social Menu by going to "Appearance > Customize > Menus > View all Locations".
You will see an option for "Social Menu" or "Social Icons". If your theme does not include a social links menu, you can achieve the same result by adding a Social Icons block.
Follow the below steps to create your social links menu
• Go to Appearance > Customize
• Open the "Menus" tab:
• If you see a "Social" menu. it has already been created, you can open it to begin editing. If not, open "Create New Menu" instead and type in a name, such as "Social Links"
• Ensure that the checkbox for "Social Links/Icons" is checked under "Menu Locations"
• To add a social media link to the menu, click "+ Add Items"
• Select the "Custom Links" menu "Item Type"
• Fill out the two fields
• "URL or Address" Add the link address for one of your social media profiles. For example, if the link to your Facebook profile is https://facebook.com/rshweb you would paste that complete address into the URL field.
• Link Text: Type the name such as Facebook
• Cick "Add to Menu"
• Repeat these steps until all the social media profiles you wish to use have been added to the menu
• Click "Save Changes". Check your website to make sure the icons are showing
How to Remove a Page from WordPress Menu
If you want to remove a page from a WordPress menu it is fairly easy, navigate back to the WordPress Menu screen Appearance > Menus.
Scroll down to the item you want to delete, click on the arrow to expand it, then select Remove.
Deleting a link from your menu will not delete the actual page, post, or category from your WordPress website. It only removes it from the navigation bar.
Further reading on Custom Menus
Tweet Share Pin Email It.