Creating a Custom Menu in WordPress
With WordPress, you can create custom menus, which normally serves as a navigation menu for your website.
The built-in WordPress Menu feature allows you to create your own custom menus in place of your theme's default menus.
Custom menus in WordPress contain links to pages, categories, custom links or other content types. You can also specify a different navigation label for a menu item, as well as assign other attributes.
There is no limit on how many menus you can create, If your website includes more than one menu location, you can choose which custom menu to associate with each location. You can also use custom menus with Custom Menus widget.
How to Create a Custom Menu in WordPress
To get started creating a custom menu, log in to your WordPress website and click to expand the Appearance menu on the left side of the WordPress Dashboard.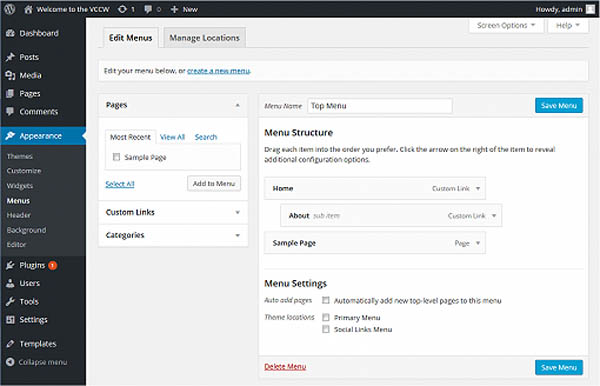 Click on the Menus link in the Appearance menu. You will now see the Menu's editor page.
Enter your menu name, and click Create menu.
You are ready to add "Menu Items" from the boxes on the left, such as posts, pages, categories, links..
If you would like to change which menu options you see from this page, click the "Screen Options" tab at the top to expand.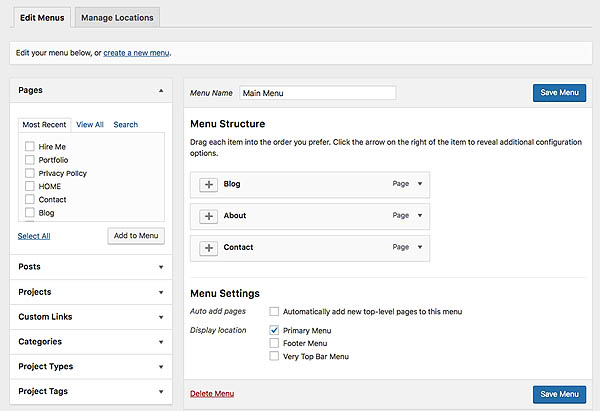 You can also add other menu items options such as tags or formats, or show advanced menu properties like CSS classes.
When you have your menu items arranged in order, click Save Menu. You now have a new navigation menu that can be added to any menu location on your WordPress website.
Further reading on Custom Menus
Tweet Share Pin Tumble Email It.