WordPress Categories and Tags
Are a way to add an organizational structure to your WordPress posts.
WordPress tags work in a similar way as keywords. Yo can use tags to highlight specific concepts or details on a page or post. Tags are an easy way for site administrators and content publishers to organize and sort content into topics. It also helps visitors find topics of interest.
Are basic ways for you to organize and to separate your posts into various topics. They can help you to organize your related posts into particular groups.
WordPress categories help to organizing posts so that users will understand what a post is about and find related posts that fall within the same category.
When writing a post, think of the wider topic of the post. If you plan to write more posts about this topic in the future, you will probably want to group these posts together.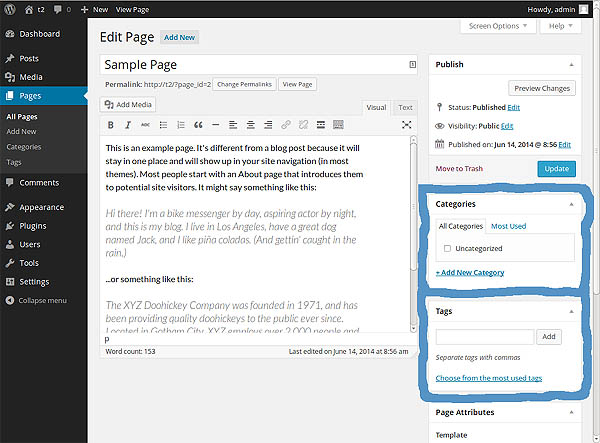 From the post editor page, locate the "Categories box".
Adding a New Category
If you don't have any categories yet, click the "+ Add New Category" link. Add your category and click "Add". You will then see your new category has been added to the list of categories.
To assign a category to a post, click the checkbox next to the category.
Another way to manage post categories is through the "Posts > Categories" link in the WordPress Dashboard navigation menu.
Clicking the Categories link will display the Categories page. From here, you can see all your categories on the right, and where to add new ones.
Category Slug
The Category Slug is the URL-friendly version of the category. It is usually all lowercase and contains only letters, numbers and hyphens.
Category Hierarchies
Categories, unlike tags, can be nested into hierarchies. For example, you might have a Music category, and under that have children categories for Rock and Jazz.
Category Description
The description section is a place for you to add more details about the posts assigned to that category. Some WordPress themes may show this information.
WordPress Categories vs Tags
What is the difference? Think of your website like a book. Categories are like the Table of Contents and tags are like the terms in the index.
Further reading on Categories and Tags
WordPress Categories and Tags Plugins
Blog filter Plugin For WordPress blog sites with a power full filtering on posts or blogs. Blog Filter, Post Filter, Post Grid Template, Post Portfolio. By A WP Life
Modern Bulk Editor for Blog Categories and Tags, create and edit hundreds of categories in a spreadsheet inside wp-admin. Quick edits. By WP Sheet Editor
Add Categories and Tags to Pages. By YAHMAN
Force users to select a taxonomy term when publishing posts. For example, make category or tags required. By VegaCorp
TaxoPress enables you to manage Tags, Categories and all your WordPress taxonomy terms. By TaxoPress
Adds the built in WordPress categories and tags to your pages. By curtismchale
Adds a widget which uses Javascript to dynamically expand or collapse the set of posts for each category. By Robert Felty
Convert existing categories to tags or tags to categories, selectively. By wordpressdotorg
Simple plugin to display categories in any post or page with a shortcode. By Fernando Briano
New Categories widget in the awesome style! Bring colours to your categories widget make every category in its color. By Gesundheit Bewegt GmbH
Tweet Share Pin Email