Applying a WordPress Page Template
Some WordPress themes include page templates that change the way your web-pages are formatted on the front end of the website. By using templates, your theme can give you some flexibility for how your pages look and where certain web page elements are located.
A few features of what page templates can do
• Can be used to change the look and feel of a page.
• Can be applied to a single page, a page section, or a class of pages.
• Generally they have a high level of specificity, targeting an individual page or group of pages. For example, a page template named page-about.php is more specific than the template files page.php or index.php as it will only affect a page with the slug of "about."
• If a page template has a template name, any one editing the page will have control over which template will be used to render the page.
WordPress Page Template
To add a WordPress page template to a page. Select "edit" or "add" a new page from the Pages menu located in the WordPress Dashboard.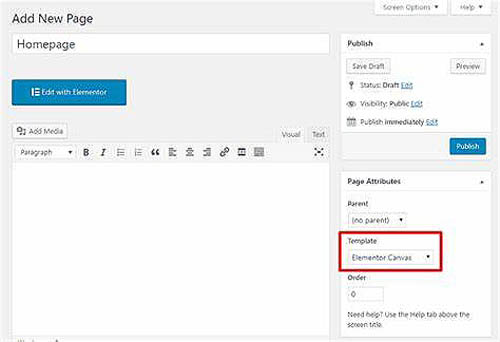 Find the Page Attributes section. In this section, you will see a drop-down list for available page templates.
Depending on the WordPress theme, you will see the specific page template options in the drop-down menu.
Previewing your WordPress Page Template
To test out how each of these templates would change the look of the page, select a page template. Now, you can preview the changes to this page and decide whether to apply this page template to the page.
Publishing the Page
Once you have selected the page template to apply, make sure it has been "Selected" and click "Publish".
WordPress Template Plugins
Create full width pages, add left or right sidebars, add above or below content sidebars. By GreenJayMedia
Landing Page Builder lets you create Custom Pages using pre designed Free Landing Page templates with Ultimate Landing Page Builder. By Web-Settler
WordPress Custom Login Page Template Plugin customizes the default WordPress login page with different templates, logo and background uploads as well. By Cozmoslabs, Madalin Ungureanu, Antohe Cristian,
Shows you which pages are using which templates, and whether or they are built with Gutenberg or not. By Shawn Hooper
See list of pages or any type of posts by filtering based on used template, Page template filter dropdown for post/page listing, New column in page. By oneTarek
The Custom Field Template plugin extends the functionality of custom fields. By Hiroaki Miyashita
Further reading on Page Templates
Tweet Share Pin Email