Managing Comments in WordPress
With WordPress, your site visitors can leave comments on posts and pages.
Managing comments in WordPress is quite similar to the way posts and pages are managed.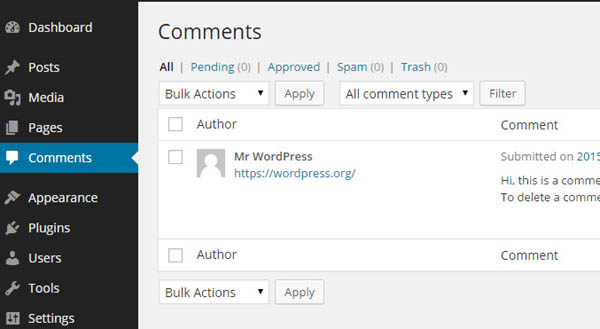 From the WordPress Dashboard, click the "Comments" page. This screen is customizable in the same ways as other WordPress management screens.
A yellow row means the comment is waiting for you to moderate it. You can act on comments using the "on-hover" action links or the Bulk Actions.
In the Author column, in addition to the author's name, email address, and blog URL, the commenter's IP address is shown. Clicking on this link will show you all the comments made from that IP address.
In the "Comment" column, each comment includes Submitted on information, followed by the date and time the comment was left on the website. Clicking the date/time link will take you to that comment on the site. Hovering over any comment gives you options to approve, reply (and approve), quick edit, edit, spam mark, or trash that comment.
In the "In Response To" column, there are three elements
The "Text" is the name of the post that comment is assigned to
"Links" to the post editor for that entry
The "View Post" link leads back to that post on your live site. This small bubble with the number shows the number of approved comments that post has received. If the bubble is gray, you have moderated all comments for that post. If it is blue, there are pending comments. Clicking the bubble will filter the comments screen to show only comments on that post.
Managing Comments in WordPress: Dashboard Home Screen
Another way to manage comments is from the WordPress Dashboard home screen. You will see recent comments and you can quickly and easily approve, reply, edit, mark as spam or trash by hovering over these links.
WordPress Comment Settings
Do not forget you can change your Comment or Discussion settings from within the WordPress settings menu. This page allows you to make changes to the details of comments made on your site, plus the ability to blacklist comments to help manage spam comments.
WordPress Comment Plugins
Allows administrators to globally disable comments on their site. Comments can be disabled according to post type. Multisite friendly. By WPDeveloper
AJAX powered realtime comments. Designed to extend WordPress native comments. Custom comment forms and fields. Making comments has never been so awesome. By gVectors Team
Spam protection, anti-spam, firewall, premium plugin. No spam comments and users, no spam contact form and WooCommerce anti-spam. By СleanTalk
Integrate Social Login, Social Share and Social Comments at your website easiest and simplest possible way. By Team Heateor
Ultimate Member – User Profile, Registration, Login, Member Directory. By Ultimate Member
This plugin will help you display Facebook Comments on your website. You can use it on your pages/posts. By wpdevart
Delete all comments from your wordpress database easily. By Navneet Soni
Provides an improved Recent Comments widget and a shortcode to display your recent comments on any post or page. By Barn2 Plugins
Further reading on Comments in WordPress
Tweet Share Pin Email It.