Scheduling WordPress Posts
WordPress has the ability to schedule your posts to be published at a future time.
This can be a very useful feature, but slightly hidden, which is why many people do not even know it is there.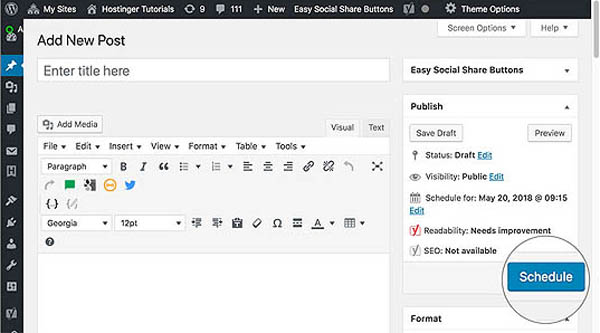 By scheduling your posts, you never have to worry about publishing your articles at a specific time. You can finish writing and then schedule it to be published on the day and time that you choose.
Scheduling WordPress posts is an easy way to control when your content is published. Use the built-in WordPress post scheduler to add a time to publish.
The WordPress posts scheduling feature is found in the Publish box on the upper right side of the post editor page.
To schedule a post for publication, click the edit link next to Publish.
You will now see a drop-down option to select the month, date and year to publish the post, even the exact hour and minute.
For example, if you'd like to publish this post at 8 a.m. tomorrow, select tomorrow's date, set the time for 8 a.m., and click Ok. You will now see the Schedule button has appeared.
Click the Schedule button, and you'll see the status of this post has changed to scheduled with details for the exact date and time it will be published to your blog.
If you change your mind and want to publish this post immediately, click the Edit link next to the scheduled publish time. Just update the time to today's date and the current time, and this will immediately publish the post.
Further reading on Schedule Posts and Pages
WordPress Posts Plugins
Bookly is a booking plugin for WordPress for building an advanced automated online scheduling system. By Bookly
Schedule Posts for Instagram, Facebook, Mastodon and Twitter. Effortlessly schedule and automate the perfect posts for all your networks. Unlimited capabilities and infinite extensibility. By Jordy Meow
Checks to see if any scheduled posts have been missed. If so, it publishes them. Choose run time and forget it. By UfukArt
Add an expiration date to posts. When your post is automatically unpublished, you can delete the post, change the status, or update the post categories. By PublishPress
Autopost, schedule and share blog posts and contents on social media, pages & groups on Facebook, Twitter, LinkedIn, Instagram, XING etc. By Blog2Social, Adenion
PublishPress Revisions gives you control over updating published content. Users can duplicate posts and submit changes. You can approve, reject or more. By PublishPress
This plugin will schedule 'auto post checks' to publish new posts and/or recycle old posts automatically. By Super Blog Me
Say goodbye to the hassle of manually scheduling your WordPress blog posts with Publish to Schedule! With our plugin, you can easily automate your post. By Alex Benfica
Tweet Share Pin Email