Formatting WordPress Posts
WordPress has a built-in Post editor formatting options. The majority of your formatting options can be found in the Post Editor ToolBar.
To get started formatting your WordPress posts, click on "Posts" > "Add New" or "Post" > "All Posts" and select the post you would like to edit.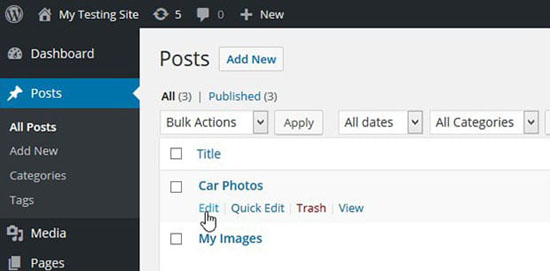 WordPress Post Editor
In the first row of the toolbar, you have options to bold, italicize or strike-through text. To bold text, Just select the text you would like to format and click the bold button. You will see this text has been bolded.
The next two icons are for bulleted and numbered lists. If you would like to add a list to a post, just select the text, then click that icon.
The quotation mark icon is the block quote feature. By default, this will add an indentation and italicized style to your selected text. (Note: your WordPress Theme controls how block quotes are styled on the front end of your site).
Next are alignment options. You can choose to align left, center or align right.
The following icon is the insert more tag. This will change how much text your blog page displays with a read more link.
If you prefer to write your posts in distraction free mode, click this icon. This will take you to full-screen writing mode, similar to using a Word processing software.
The "Toolbar Toggle" lets you show/hide the second row of icons on your toolbar. (It used to be called "Show/Hide Kitchen Sink", which you might recognize if you've been blogging for a long time.). Use it for viewing the second row of toolbar buttons. Or hiding them if you find them distracting or only have a small screen to work with. Here you can add heading styles to your text, underline text or set a full alignment.
To change the color of your selected text, use this icon to select the color.
The next two icons are for pasting text - either as plain text or from Microsoft Word.
You can at any time hover over the icon to see the name and function.
WordPress Post Plugins
Admin UI for creating custom content types like post types and taxonomies. By WebDevStudios
Mass Pages/Posts Creator is a plugin which provide a simplest interface by which user can create multiple Pages/Posts at a time. By theDotstore
Generate blogs with GPT-3 AI and publish automatically. With this plugin you can easily transform your WordPress website with AI-powered content. By AutoWriter
Add an expiration date to posts. When your post is automatically unpublished, you can delete the post, change the status, or update the post categories. By PublishPress
Post Grid Combo is extremely easy to use for creating grid-layout and post-layout. Also, we're offering many small blocks with extensive flexibility. By PickPlugins
Advanced Post Block is an useful plugin for the new WordPress Gutenberg block editor. It added many new features for displaying posts or custom posts. By bPlugins LLC
Modern Bulk Editor for Posts and Pages, create and edit hundreds of posts at once in a spreadsheet inside wp-admin. Search and quick edit. By WP Sheet Editor
Automatically share your WordPress posts on Twitter, Facebook, LinkedIn. Get more visitors to your website and keep your content alive. By revive.social
For further reading on "Editing your Posts"
Tweet Share Pin Email