Formatting WordPress Posts
WordPress has a built-in Post editor formatting options. The majority of your formatting options can be found in the Post Editor ToolBar. To get started formatting your WordPress posts, see "Posts" > "Add New" or "Post" > "All Posts" and select the post you'd like to edit.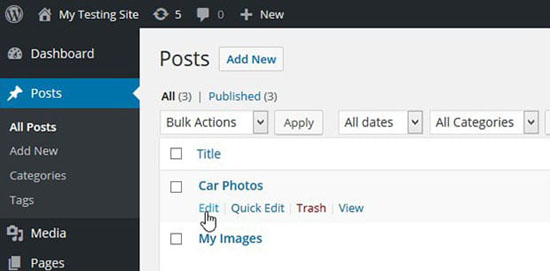 WordPress Post Editor
In the first row of the toolbar, you have options to bold, italicize or strike-through text. To bold text, Just select the text you would like to format and click the bold button. You will see this text has been bolded.
The next two icons are for bulleted and numbered lists. If you would like to add a list to a post, just select the text, then click that icon.
The quotation mark icon is the block quote feature. By default, this will add an indentation and italicized style to your selected text. (Note: your WordPress theme controls how block quotes are styled on the front end of your site).
Next are alignment options. You can choose to align left, center or align right.
The following icon is the insert more tag. This will change how much text your blog page displays with a read more link.
If you prefer to write your posts in distraction free mode, click this icon. This will take you to full-screen writing mode, similar to using a Word processing software.
By clicking the "Show-Hide" the kitchen sink, another line of formatting options will be revealed. Here you can add heading styles to your text, underline text or set a full alignment.
To change the color of your selected text, use this icon to select the color.
The next two icons are for pasting text — either as plain text or from Microsoft Word.
You can at any time hover over the icon to see the name and function.
For further reading on "Editing your Posts".
Tweet Share Pin Tumble Email It.