Why Your Email Address Matters
A Domain branded email address demonstrates your legitimacy as a business. Prospects and clients will have more confidence and trust in you because it gives a better impression.
You may be wondering why your email address matters enough to secure an email hosting service
Email itself has been around for 50 years. Think back to some of the emails you've received from the companies you do business with. Also think about how you may have felt when you saw the sender's email address.
john348@gmail.com
logos259@hotmail.com
catthepartygirl68@yahoo.com.
After spending time deciding on the best domain name to represent your business.
Adopting a generic Gmail, Yahoo or Hotmail email account will not create the professional image you're looking for. In fact, people will wonder if your business is genuine.
You also run the risk of your email being treated as spam and never actually landing in your intended recipient's inbox.
Your email address is similar to your online business card. This is the first thing they see when they interact with you, and it can have a huge impact on the kind of impression you make.
aajaysinghTBS@outlook.com
Will always look less professional than:
rshweb@rshweb.com
Branding
Work email is the central point of communication, branding and production. Most business provide email addresses that are uniform throughout the organization. And allow your contacts to know the name of you and your business right in the email address itself.
For example, BillGates@businessname.org. These emails are more likely to be taken seriously by recipients, knowing that you are with a legitimate company. What better way to effortlessly portray professionalism than utilizing your email address? It is a simple but effective tool that puts you and your company in the spotlight.
Free Email Accounts?
If you're just starting out in your business, sometimes the easiest choice is to make use of free services. Email has become the primary tool for communication in work and personal life
Many people opt to use free email services to set up Email Accounts. However, there are disadvantages and unknown costs to this.
Consider your inbox. You have new emails with the following email addresses.
smurfs625@aol.com
remy53mdds@sbcglobal.net
tommyfis1982@hotmail.com
christina.alvarez67@gmail.com
verdun.singhaha@stanford.edu
tammy@reallybig.net.
Does any of these address look like they are professionals?
You will avoid spam filters more often. Many corporate email filters screen out online email providers like Gmail and Outlook.
The ideal email address is short, simple and logical
Free email addresses are often long, confusing and most important they include generic or common Domains such as
@gmail @yahoo @outlook.
In business, it is vital to create the right impression - you need an Email address that is both unique and memorable.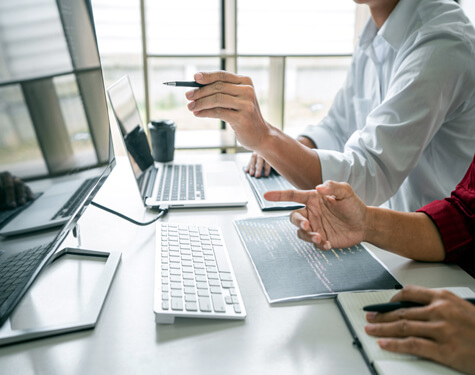 Matching Domain & Email account
You get complete control over your online persona. Using your own domain name makes it easy for others to email you and remember your address.
It helps establish credibility by showing you are a real company with real employees, products and services.
Personalized and Professional
Your email address is your calling card. It is your identity. It's your first impression and your brand. Having a professional looking email address on your own branded domain is an essential and inexpensive way to show that you mean business. Research shows that consumers place greater trust in businesses that use their own domain names for emails.
Emphasize your Name
Your domain name gives you a presence on the Internet. You will reinforce your name with every email you send to prospects and clients.
Many people will look for your website when they receive an email from you by taking the part after the @ sign:
@rshweb.com
When your website appears, it validates and authenticates you and your products or services. Authentication is very important because of the amount of spam each of us receives from free email service providers.
Other benefits of using your own domain name for email
• Establishes and reinforces your online identity
• Differentiate yourself from competitors (and spammers)
• Differentiate yourself from spammers
• Lets your customers know you mean business.
Customer Service
Essentially, there is no customer service for free email services. If you have a problem with Hotmail, Yahoo, Google Mail, or whatever free email service you're using, you will probably run into trouble receiving timely support.
We welcome your comments, questions, corrections and additional information relating to this article. Please be aware that off-topic comments will be deleted.
If you need specific help with your account, feel free to
contact us
anytime
Thank you
COMMENTS
Trina F
Very informative blog. Thanks for sharing.
---
Rob H
Nice post shared by RSH Web. It is very helpful for new users.
---
Tweet Share Pin Email.