The Best Blog Platforms for Beginners, Businesses and Content Creators
When it comes to making a mark on the "World Wide Web" starting a blog is a time honored strategy.
There are endless blogging niches with a never ending supply of platforms to manage your blog with.
After buying a domain name often our customers ask which application they should use to set up their blog.
The answer is usually "It Depends...
>> What type of blog are you starting?
>> How often will you post to your blog?
>> What type of blogging content?
>> Do you plan to have ads on your blog site?
>> Are analytics important?
And the list goes on and on.
Our Recommendations
Instead of giving you one or two recommendations, we have listed some of the best and free blogging platforms for you to consider
Micro Blogs listed at bottom of page
Also see our Blog Website Setup Services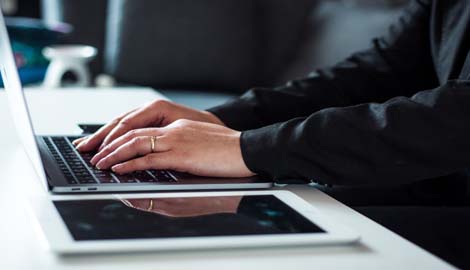 WordPress is web publishing software you can use to create your own website or blog.
WordPress has become one of the most popular web publishing platforms.
Today it powers nearly 30 percent of the entire web, from hobby blogs to some of the biggest news sites online.
WordPress is much more just a blogging tool. It's actually a highly flexible content management system (CMS)
Build and manage your own website using just your web browser.
Hundreds of volunteers from all around the world are constantly creating and improving the code for the WordPress software.
There are thousands of plugins, widgets, and themes that enable you to build just about any type of website you can imagine.
WordPress Templates & Themes
Open Blog is a free and open source blogging platform built using the CodeIgniter PHP framework.
It provides users with a very powerful yet easy to use interface which makes blogging simple and enjoyable.
OpenBlog is user-friendly blogging platform based on the CodeIgniter PHP framework.
It's simple and will not overload your servers, but like WordPress and Chyrp, it's backed up by a productive community that provides themes, plugins and extensions.
OpenBlog is as user-friendly as WordPress can be to a beginner, but it's equally interesting to an intermediate to advanced user
An application that provides just the essential blogging features.
Nibbleblog is fast. It has a clean, streamlined interface that makes it easy to quickly do what you want.
It includes basic plugin and theme support to help you customize a site's look-and-feel, and it has built-in multilingual support for more than 10 languages.
Nibbleblog packs a lot of functionality into a small package, and is definitely worth a look if you don't want or need a lot of extra bells and whistles
Serendipity is a PHP-powered weblog application which gives the user an easy way to maintain an online diary, weblog or even a complete homepage.
While the default package is designed for the casual blogger, Serendipity offers a flexible, expandable and easy-to-use framework with the power for professional applications.
Casual users appreciate the way Serendipity's sophisticated plugin architecture allows you to easily modify both the appearance of your blog and its features.
You can install more than 120 plugins with just one click, instantly enhancing your blog's functionality. No need to edit code!
Dotclear is freely available open source blog publishing platform written in PHP programming language
It is popular in French speaking countries and most of the supporting material of Dotclear is available in French language though it provides easy and flexible architecture to its users.
Software is itself multilingual and provides all normal features of blogging.
Dotclear is a high quality online publishing tool, it is user friendly and possesses a rich functionality that provides a comfortable experience to its users
b2evolution is an advanced weblog tool, i-e software allowing you to run your own blogs, newsfeeds or even photo stream.
b2evolution is a medium scale CMS centered around the Blog concept, fully featured with multiple blogs, content/presentation separation,
full user management, full internationalization, work flow management, and extending towards features normally provided by Wiki's, Trackers or hierarchy driven CMSes
Textpattern is a web application designed to help overcome the hurdles to publishing online, and to simplify the production of well-structured, standards-compliant web pages.
Textpattern is a flexible, elegant and easy-to-use content management system.
Built on solid foundations, Flexible tag-based templates, Fast, lean, secure and extendable, Simple, elegant user interface,
Available in over 40 languages, Community-driven development, Write using Textile, Markdown, etc., Contributors are welcomed
Pixie is a free, open source web application that will help quickly create your own website.
Many people refer to this type of software as a "content management system (cms)", we prefer to call it as Small, Simple, Site Maker.
The software installation is only 2.28 MB, thus making Pixie one of the lightest CMS's currently available.
Pixie supports XFN's Micro formats. This is useful to keep all links across your blog semantically relevant to search engines
Pixie also supports CSS Themes and database backups
Nucleus CMS is a flexible and easy to install content management system, aka blog software. It helps you to publish a website and lets writers do what they are best at: writing items or articles, without having to worry about formatting and markup
Chyrp is a blogging engine designed to be very lightweight while retaining functionality.
It is powered by PHP and has very powerful theme and extension engines, so you can personalize it however you want.
The code is well-documented, and it has a very strong structure that's loosely based on the MVC design pattern.
Chyrp is a minimal CMS that aims to be a less bulky alternative to WordPress.
Recent versions come with an extensive documentation and a supportive community behind
eggBlog is the free php & mysql blog software package, allowing you to create your own online website, journal or weblog using your own Web-space.
Powered by PHP and MySQL, eggBlog has a wide range of features including: easy to use Web-based administration and configuration.
WYSIWYG easy-to-use text editor for publishing or editing news articles, download themes to easily change the style,
layout and colors of your site, download additional language files, optional forum to allow discussion,
optional comments on news articles to allow feedback on announcements, optional sticky articles that remain fixed on all pages...
HTMLy is an open source Data-baseless Blogging Platform or Flat-File Blog prioritizes simplicity and speed written in PHP.
HTMLy can be referred to as Flat-File CMS either since it will also manage your content.
HTMLy uses a unique algorithm to find or list any content based on date, category, tag, or author, and the performance will remain fast even if we have thousands of posts and hundreds of tags
PivotX is free software to help you maintain dynamic sites such as weblogs, online journals and other frequently updated websites in general.
It's written in PHP and uses MySQL or flat files as a database.
PivotX is also a great tool to maintain more complex websites as well.
Its powerful core and flexible template system make it easy for developers to adjust and extend.
Whether you want an easy-to-use, robust blogging tool or are looking to push things to the max
Movable Type is powerful enough for building websites, blogs, and communities on a single platform. It's easier than ever to publish and share information with Movable Type. Movable Type makes it simple to manage entire websites, start new blogs, and build an engaged community of readers and customers
Micro Blogs
StatusNet is a microblogging service that is intended to be a open source alternative to Twitter. It allows for distributed communication between multiple micro blogging communities, including Twitter. It's API is compatible with Twitter's, so you can use the same applications as you would with Twitter. StatusNet supports geolocation, hashtags, Automatic URL-shortening and embedding content from other sites, such as You Tube or Flicker. Users can easily set up SMS updates and notifications, so they can keep themselves updated on the go in real time. Status net also works with OpenID authentication
Storytlr is an open source lifestreaming and micro blogging platform. You can use it for a single user or it can act as a host for many people all from the same installation
---
PageCookery
PageCookery is an open source software that is a micro blogging script. A single user version of the open source micro blogging program, PageCookery is built on a PHP + MySQL based architecture as a set of safety, efficiency and stability, to "share", "discovery" for the concept of Web 2.0 solutions to micro-blog
Comments, questions or leave a reply
Contact Us
COMMENTS
---
William Flanagan
SEO is one of the growing sector today. it was increasing day by day
---
Patrick Johnson
Thank you for writing a clear article. Extremely helpful for new users
---
Shane Pierce
Thanks for sharing such an informative article
---
Tweet Share Pin Tumble Email