It will not matter if it is stolen data or ransomware attacks. Any cybersecurity breach can have a significant and long-lasting negative effect on your business. It is estimated that breaches will cause 146 billion records to be stolen in the next two years. Small businesses remain the most vulnerable to cyber attacks
In fact, more than 43% of cyber-attacks are made against small businesses. How can your small business protect its data and customers from cyber criminals? It starts with recognizing your vulnerabilities and taking steps to safeguard your treasure trove of digital assets
What types of breaches are possible?
Businesses of any size can be the victim of a wide range of cyber-attacks, including ransomware, malware, denial of service attack, phishing attacks to name few. In some cases these hackers steal personal information which they can use for identity theft. Others gain access to sensitive information such as passwords, banking and routing numbers, email accounts, etc
Password Protection
Businesses both small and large are almost always most at risk because of poor passwords. Not having a strong password system in place leaves you vulnerable to brute force attacks. Which ESeller365 explains take advantage of this weakness
Easy passwords, such as 123456 and Password are the equivalent of leaving the key in your front door. Require that your employees and customers follow strong password guidelines, which include using a combination of letters, numbers, and special characters. Using multi-factor authentication, where users must confirm a login, often via text message or email, will also help
Remote Work Risks
As more and more businesses continue to allow employees to work from home, data becomes more readily available to hackers. Understand the risk involved in decentralizing your workforce, and then partner with a cybersecurity provider that can add a layer of protection to your entire network, no matter how far apart your employees may be. The right company not only shields you from ransomware and brute force attacks, but will also follow best practices within the industry to help recover your data if it is blocked or stolen. Before you partner with an organization, make sure they can handle your remote workforce and will also keep backup copies of your information in a restricted-access directory where only authorized team members have access if needed
Virtual Private Networks (VPN)
In addition to having a company on retainer, there are other steps you can take to mitigate remote work risks. Most notably, having your workers login via a VPN, or Virtual Private Network. MakeUsOf.com explains that this is essentially a tunnel that wraps the information flowing between your employees computers and whatever website or workstation they are accessing from home in a digital safety net. It encrypts the data flowing between the two, making it exponentially more difficult for hackers to find the connection to try and reach it.
VPN continues to rise as one of the best and widely accepted tool for your online anonymity and data Encryption. Mainly due to public awareness about Online Security. VPN's are one of the smartest ways to protect your online privacy and maintain your data security
SSL Safety
An SSL certificate installed on your web server is another way to create a barrier between data and digital deviants. RSH Web Services explains that SSL certificates "bind a cryptographic key to an organizations details". This makes your website safer for customers and is just one way you can help make the Internet more secure for everyone
There are several types of SSL certificates, both free and paid. You can choose a single-domain certificate or a wildcard certificate that will help you secure your main URL as well as all your subdomains, including your blog and your online store. The strongest encryption available is an EV SSL certificate, which is subject to global standards so your website will be safe across the entirety of the web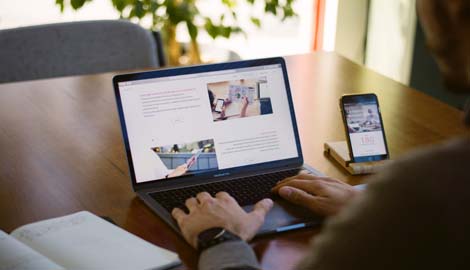 Assess Risks and Vulnerabilities
Consider hiring a consultant company to test systems that have network and or Internet access such as websites, email accounts, drives. Create safety procedures to follow in case of a breach and make network and computer security top priorities
Have a Plan for Devices
Employees are likely accessing business data from multiple devices. It is very convenient to check work emails on your mobile devices. This opens up many potential vulnerabilities. Make sure these are included into your risk assessment plans
Employee Training
Make sure your employees are at least made aware of and better still trained in Cyber Security Threats and good Security Policies. Be sure to update your training procedures as you implement new policies
Two-Factor Authentication
And even Facial Recognition software will help stop Cyber Attacks. An increasing number of apps and e-commerce websites use two-factor authentication to verify a users identity. Users receive a numerical code by email or text and enter it along with their password to gain access. Biometric features like Windows Hello can also help you and employees login more securely
Update Software and Systems
Make sure you are running the latest versions and security patches. Properly configure network security and use antivirus software
Backup Your Data
As protection against ransomware attacks. Use an off site provider in addition to on site backups
Homeland Security's Cyber Security Planning Guide
Download the PDF here From network and computer security to awareness and device and website security. The third annual CSD Technology Guide from 2018
Summary
There are many other ways to protect your business and your customers from virtual vigilantes. The steps above can help, but you also want to be diligent when using public Wi-Fi and, perhaps most importantly, never underestimate your vulnerability
In a world where nearly half of Small businesses do not have any security defense plans, cybercriminals have a smorgasbord of data to choose from. Take yours off the menu with the tips above
---
Comments
We welcome your comments, questions, corrections and additional information relating to this article. Please be aware that off-topic comments will be deleted.
Or if you need specific help with your account, feel free to
contact us
anytime
Thank you
Tweet Share Pin Tumble Email