Creating a new Small Business website?
Does your current website need some updating, tweaks or a major overhaul?
You are already facing stiff competition from local businesses. When searching for services you offer you find hundreds if not thousands of other businesses that are offering similar services or products as you do. Such competition can seem to be intimidating, especially for the Small Business owner. So how can a small business website compete amidst all that competition?
Whether you've just started your small business or your main intention is increasing your presence on the Internet. Creating a website much less a great website can seem like a very daunting task. Following some of the suggestions below will help any website stand out
Provide Complete Accurate Content
The Internet revolves around Content. And Google loves good content. If any website is to stand out they must be fully commented to great content. Being fully immersed with publishing good content means that you becomes a good resource website. Small businesses should ensure that accurate and updated content is posted regularly. Consumers can not only find the information that they search for but the products and or services they seek as well
Be a Resource
You now see why establishing yourself as a great resource site by the content you provide on your Website is important
But do not stop there
Make time to be on Twitter and Facebook participating in chats. Fielding questions on Pinterest & Tumblr. Responding to comments on other blogs sites, guest posting on niche sites, etc. By providing content and being seen on sites outside of your own site you establish yourself as a expert in your field. You will see a increase in referrals, social media loyalty, new traffic, and business growth
Integrate Social Media
Every successful business person knows that being on social media channels, such as Facebook and Twitter has a big impact. And it is not just being listed but actually using them. Any business owner can use social media channels to conduct a market research on its field, or even involve in the everyday lives of their customers. Integrating social media sites with the Business Website adds legitimacy. This can help to generate more traffic to the website. For instance, when an integrated social media channel gets more likes and tweets, then the business tends to rank among the top results in search engines
We have listed some of the most popular Social Media sites below: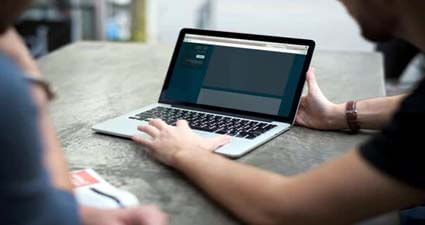 Business Profile on Google
Make sure you are using "Google My Business" and that your profile is completely filled out. This includes your current location, hours, services. Maybe add some photos and links to your most recent blog posts. Having your business verified through Google My Business can help your business rank better in Google's search results
Display Your Contact Information
If your website is to stand out, you must include in it a page that displays your full and updated contact information. The contact information should include your email address, physical location and phone numbers. This contact information can also be included on every page for easier access by the customers when they wish to contact you
Specify Who You Are
If your website is to outdo your competitions website, then give the consumers something to remember. One way of doing this is being specific about who you are and what you do. This can be done by including a marketing story from where customers can learn about your business and or services you provide. Also consider including how different you are from your competitors. This just might be what will be remembered by your customers
Professional Appearance
The appearance of a business website is very essential if it is to stand out. Small businesses should avoid creating home-made websites or websites that have cookie-cutter templates, as these tend to put off potential clients. Free hosting sites and simple web page creators like Wix and GoDaddy should also be avoided. The best website designs are those that have professional appearances. These are the ones that in todays market will actually stand out
Online Payment Options
In order to make selling easy and convenient for customers, small businesses should ensure that they include easy online payment options on the website. Online payment options should not only include credit cards but also PayPal
Address Security Concerns
It is normal for anyone to have security concerns pertaining to online sales and sharing of personal information. Any website that intend to be successful strive to address all security concerns and ease their customers. They can do this by having the proper security technology such as Firewalls, DDOS protection and especially SSL certificates (HTTPS). You could include FAQ pages where they address questions and concerns of customers
Conclusion
If yours is a business of any size and you are just making your online presence. Do not just be another website on the Web. Their are already literary millions out there. Your business website is meant for greatness. Try out the above tips and lets see your website stand out and seize the online success you really deserve
Comments, questions or leave a reply
Contact Us Below
COMMENTS
Lee H
Just what the doctor ordered, Thanks again!
---
Donna S
Thanks for posting
---
Ken B
Excellent article
---
Frank B
Which firewall are you using?
We are running "
ConfigServer Firewal
" which come standard with cPanel and all our hosting accounts. You can
read more here
---
Tweet Share Pin Tumble Email